---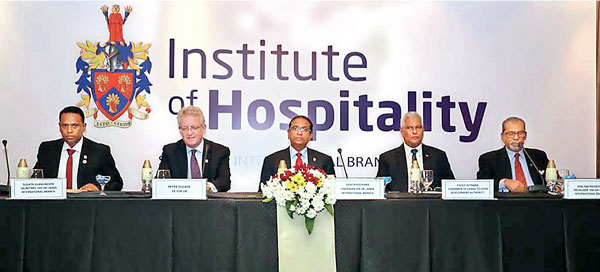 From left: IOH Sri Lanka Secretary Sugath Illangakoon, IOH UK CEO Peter Ducker, IOH Sri Lanka Chairman Sidath Kodikara, SLTDA Chairman Paddy Withana and IOH Sri Lanka Treasurer Eraj Abeywardane
By Zahara Zuhair
In a gesture to recognise the service carried out by its Sri Lanka international branch, Institute of Hospitality (IOH) Chief Executive Officer Peter Ducker visited Sri Lanka recently.
During his one-week stay, he will be visiting many locations such as Chilaw, Hatton and Waskaduwa and will be attending the institute's 'Managers Tool Chest', which will take place in different parts of the country.

During a press conference held to mark his visit, Ducker said that there has been so much development in tourism and hospitality in Sri Lanka since his last visit in 2013.
"Obviously, hospitality is expanding rapidly and the rate on development and investment is tremendous," he said.

He said the institute's role is to promote hospitality education and support its members as a fast-growing industry needs skilled and passionate individuals devoted to delivering the high standards that international travellers expect.

Sri Lanka Tourism Development Authority (SLTDA) Chairman Paddy Withana said that there is enough talent in this country and they should be encouraged and trained to drive the industry forward.
Meanwhile, Institute of Hospitality Sri Lanka Chairman Sidath Kodikara said that the continuous increase in tourist arrivals and average tourist spending have helped increase Sri Lanka's tourism earnings by 22.6 percent.
"In fact, the recently published data shows that Sri Lanka's tourist arrivals increased by 13.7 percent in October this year compared to the same last year, exceeding 1.6 million tourist arrivals so far this year," he said.

He said Sri Lanka is expected to increase the total number of hotel rooms to a level above 80,000 and the total number of employees working in the tourism sector up to 800,000 by 2020.
He said that they have undertaken steps to develop professionalism in the hotel industry as they have conducted training sessions in Kandy, Wasgamuwa Colombo and Negombo. He said that they are planning to take this concept across Sri Lanka in the North and East.
The IOH, formerly known as HCIMA, has been in existence since 1930s and is a professional body consisting of a membership made up of individual managers and aspiring managers working and studying in the hospital, leisure and tourism (HLT) industry around the world.