---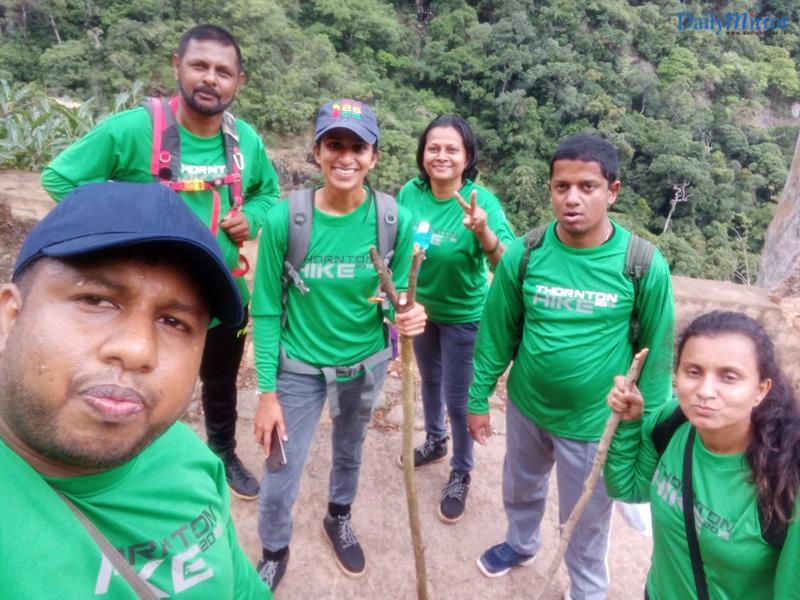 Sarvodaya Development Finance team at "Thornton Hike 2019" competition
Sarvodaya Development Finance (SDF), a licensed Finance Company approved by the Central Bank of Sri Lanka, took part in Sri Lanka's first-ever hiking competition - "Thornton Hike 2019" - organised by Thornton Hike Event Management Company.
The Thornton Hike 2019, a journey through wilderness of Sri Lanka, was organised in aid of raising much-needed funds to build sanitary facilities for West Haputale Primary School where hundreds of schoolchildren of the area currently pursue their primary education.
Ensuring employee health and wellbeing is an important part of the Sarvodaya Finance work culture. The company goes to great lengths to create a positive and safe work environment for all employees and advocates a healthy lifestyle through a combination of physical activity and balanced diet. As a result, the new SDF Head Office includes a fully equipped gym as well as Zumba and Yoga classes for the team to enjoy work-life balance. Regular company sporting events as well as support and encouragement to participate in new events such as the Thornton Hike 2019 benefits the employees and helps builds an environment of teamwork and cooperation.
The Thornton Hike 2019 helped promote tourism in Sri Lanka by highlighting the stunning landscapes, mountainous trails and breathtaking viewpoints found in the island. It connected and extended the trails and view sheds from uphill of Bambarakanda Falls - Sri Lanka's tallest waterfall - through Horton Plains National Park, including the Mini and Great World's End drops, Nagrak Estate, Devil's Staircase as well as the Ohiya village and Ohiya Railway Station.
The competition, open to individuals and 3-member teams, drew a large number of adventurous hikers from all parts of the island. After several hours on the grueling trail, the winning team reached the finished line to a rapturous welcome, taking home cash prizes and return air tickets while numerous other prizes were also on offer for top-performing participants.
Commenting on the company's participation in this one-of-a-kind, Channa de Silva – Chairman of Sarvodaya Development Finance stated, "Sarvodaya Finance is excited to take part in Sri Lanka's first-ever hiking competition, a unique event that brought together like-minded individuals with a love for the great outdoors and a passion for adventure. Our employees are our most important asset and we have always nurtured a work culture that focuses on promoting a healthy body and mind. Encouraging our team to participate in a tough physical event such as Thornton Hike 2019 is a continuation of this effort."
He continued, "Sri Lanka has so much to offer visitors than beaches, wildlife and cultural wonders, and it is important that we educate and inform both local and foreign tourists about the country's adventure tourism destinations. The Thornton Hike 2019 is definitely the kind of event that would put Sri Lanka's adventure tourism on the map. The enthusiasm shown by the participants as well as the organisers proves that Sri Lanka's adventure tourism can grow a lot more in the future."
Sarvodaya Development Finance (SDF) is the development finance arm of the Sarvodaya Movement, one of Sri Lanka's largest and most respected not-for-profit organisations. Sarvodaya Movement is a leading people's organisation in Sri Lanka with a history of 60 years' operating in more than 5,000 villages currently in the country. Guided by the principles of the Sarvodaya Movement, which is based on the value of empowering rural and village communities, SDF has nearly 30 years of committed history in providing development finance services across Sri Lanka, serving through 30 branches and 21 service centers. While remaining in development finance, SDF has now expanded into SME business, leasing and other ancillary finance businesses.