---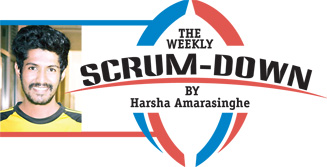 A late try from the replacement hooker Prasath Madushanka handed Havelock Sports Club a real lifeline edging out Navy Sports Club 16-11 in a hard-fought game at Havelock Park.
Madushanka who has been their first choice hooker for the last couple of years had been dropped to the bench, and there was no better time to show what he is made of coming off the bench to score the winner. His celebrations itself suggest how much the try meant for himself and for the club.
The narrow win kept them in the race for the second place, but had Navy nicked the win, Havelock could have easily dropped to fourth place.
Travelling to Nittawela, Havies will probably find things difficult and to have any chance against that star-studded Kandy side they need to be disciplined. Against the Sailors, Havies had three of their players sent to the sin-bin which means they played with 14 men for 30 minutes; you can't do that against Kandy!
Despite the defeat, Navy are still in pole position to secure second place given that they play Air Force in the final week of the tournament with Havies playing Kandy in Nittawela, the Sailors are expected to be the runners up by Sunday.
CH hit Police for 50
CH and FC would be delighted to have scored 50 against Police Sports Club, but at the same time conceding 38 points is surely not something head coach Tulagase Tavita would appreciate.
In fact, Police were on top of their game in the initial stages of the game securing a 12-0 lead, but CH kept their calmness and stuck to their plan. Centre Lee Keegel was once again the deceive player for CH as he bagged a brace while prop forward Henry Terence and Yoshitha Rajapaksa were also among the tries.
Currently slotted in at fourth, CH could even finish the league tournament as runners up should Navy and Havies lose on the final day, but on the other side of the coin a defeat to CR on Friday would see them finishing out of the top four.
Now with Sudharshana Muthuthanthri on board, CH would be one of the teams to watch out for.
Kandy in narrow win
Kandy Sports Club appears to have taken a foot off the pedal towards the end of the league competition. Of course you can do that when you have won the title with two games to spare, but their performance on Saturday was far from convincing.
Trailing 17-7 at once stage, Kandy looked as if they were heading to their first defeat of the season, but some deadly three quarter moves from the Kandy backs enabled them to collect their 13th win of the season.
Lavanga Perera has done really well in the absence of top scorer Anurudda Wilwara, but Kandy would badly miss the service of Wilwara in the Clifford Cup as he looks set to be sidelined for at least three weeks with a knee injury, which is why Richard Dharmapala needs to be their main man for tries.
The Sri Lanka 7's star has been in decent try-scoring form, but the former Science skipper needs to deliver in big games, and going into the knockout tournament he would be one player that Kandy may rely upon to generate tries.
Army Sports Club on the other hand needs a lecture on game management. They were winning against CH and FC the week before, but let the win slip away in the last five minutes and what happened with Kandy was similar. Kandy would not concede such a lead every day, but when you are 17-7 up against Kandy, you should find a way to hold on.
Ratwatte stars in CR win
Fly-half Tarinda Ratwatte collected 12 points for CR and FC helping them beat a very stubborn Air Force side 27-17.
Ratwatte has had a stunning start to the season, but there was certainly a dip in his form towards the end of the first round, but he has quietly made himself a hugely significant member of the CR team.
Reeza Raffaideen playing his first season for the Red Shirts has also played quite superbly scoring a try in pretty much every game. It has not been a great season for the Longden Place Club, but Raffaideen's performance right throughout the season is something that will please the management.
Air Force, who are at rock bottom, will be desperate to beat Navy in a home a game next week in order to avoid facing Kandy in the first game of the Clifford Cup.