---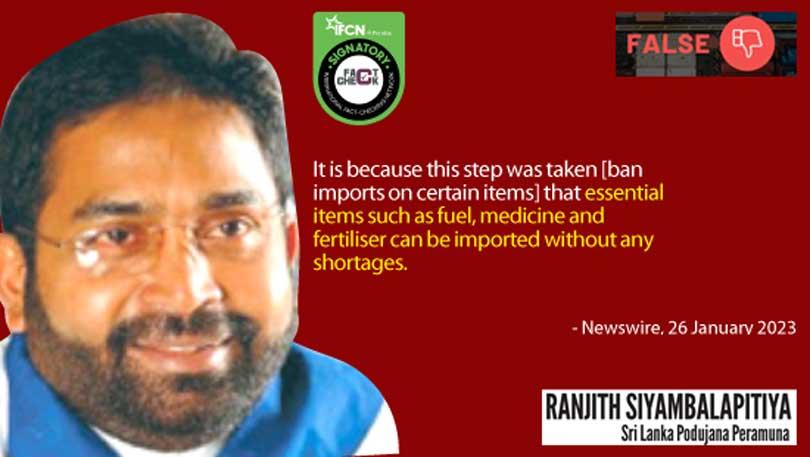 The state minister claims that fuel, medicine, and fertiliser are being imported without a shortage.

To check this claim, FactCheck.lk consulted statistics from the Export Development Board and the Central Bank of Sri Lanka.

Factcheck.lk used the quantity of imports in 2019 as the base year to assess if the quantity imported in 2022 might be with or without a shortage. Quantities were compared for the full year as well as the last six months. 2019 was selected as the base (normal) year as it was the first year that precedes the economic crisis and the covid-19 pandemic. To import without shortages is evaluated as having kept up to at least 90% of the import levels of the base year (allowing for a demand reduction similar to the reduction in real GDP, which fell by 8.9% from 2019 to 2022).
Exhibit 1 shows that for the full year, the quantities of fuel and fertiliser fell by 30% and 43% in 2022. For the second half of the year, it fell by 34% and 30%, respectively. For medical and pharmaceutical items, for the full year, imports fell by 27% for items counted by weight and 46% for items counted in numbers (half-yearly data was not available).

Compared to 2019, there is a severe reduction in the importation of the quantity of all three products in 2022 – ranging from a 27% to a 46% reduction. This implies a huge shortage of supply relative to the expected demand, even after adjusting demand expectations downwards in line with the reduction in real GDP.

Therefore, we classify the state minister's statement as FALSE.

For more fact checks, visit our website at www.factcheck.lk.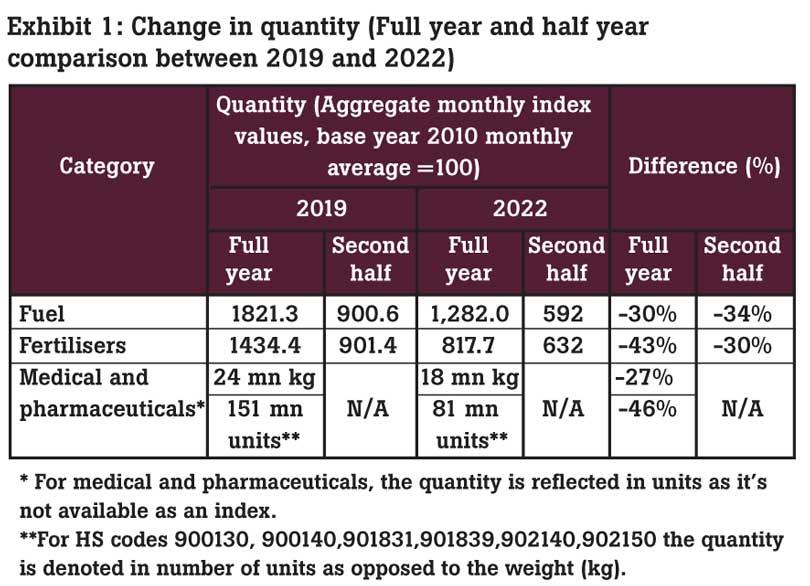 FactCheck is a platform run by Verité Research.
For comments, suggestions and feedback, please visit www.factcheck.lk.