---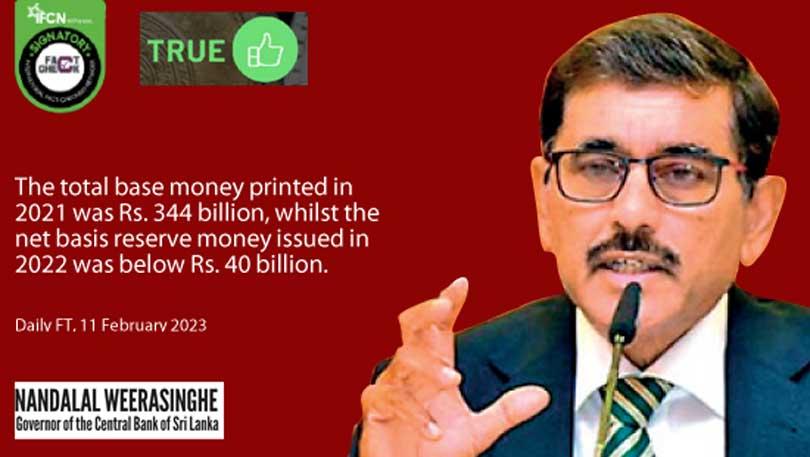 Commenting on the question of inflationary pressure created in Sri Lanka due to increased money printing, the Governor of the Central Bank of Sri Lanka (CBSL) claims that the money printing has reduced in 2022 compared to 2021.

The governor in his statement refers to the change in the "reserve money" as the amount of "money printed" in the country. There is also a common usage in which the direct financing of government debt by the CBSL is called "money printing" as it expands the money base in circulation. However, this is not the only mechanism for increasing the money base. Open market operations (buying and selling securities in the secondary market), the purchase of foreign assets and change in the net asset position of the CBSL also change the money base. The sum of all the above changes is captured in the change in "reserve money", which makes it the correct overall indicator for the increase in the money base (what is also referred to as "money printing").
According to CBSL data, the increase in reserve money was LKR 341 billion in 2021 whereas the increase was only LKR 44 billion in 2022. The LKR 44 billion figure is closer to the amount cited by the governor as the amount of "money printed".

The popular understanding has been based on the amount of direct financing of government debt by CBSL, which increased by LKR 1,181 billion in 2022, whilst it only increased by LKR 692 billion in 2021. Therefore, despite the increase in this method of increasing base money in 2022 other actions relating to net foreign assets and open market operations reduced overall base money in 2022.

Overall, the governor is correct in quoting the net increase in base money, as the amount of "money printed" in 2022. Therefore, we classify his statement as TRUE.
*FactCheck.lk's verdict is based on the most recent information that is publicly accessible. As with every fact check, if new information becomes available, FactCheck.lk will revisit the assessment.

FactCheck is a platform run by Verité Research.
For comments, suggestions and feedback, please visit www.factcheck.lk.