---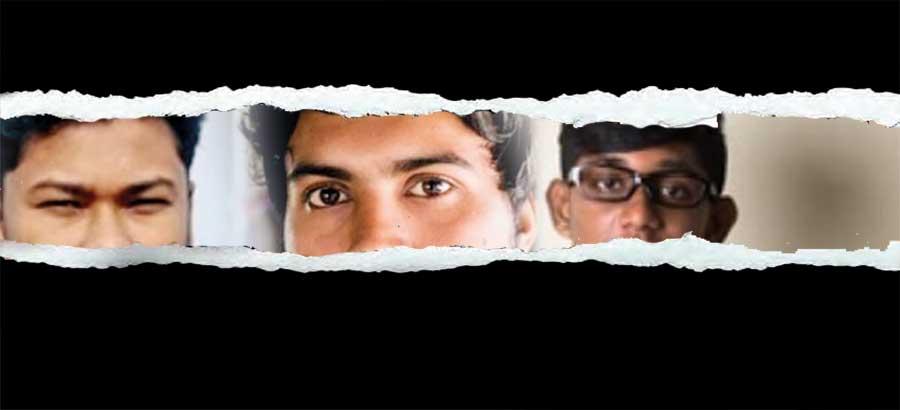 With access to hacking software and improved translation software, the scammers, who are themselves victims, target American citizens above the age of 37 by creating fake profiles on largely used US dating apps such as Hinge, Boo, Tinder and POF.com
The victims were from India, Bangladesh, Pakistan and African countries, including Ethiopia, South Africa, Uganda, Madagascar and Rwanda
The ongoing economic crisis in Sri Lanka had hampered his marketing job and thus, when he heard he could earn US$1,000 a month at an IT job in Thailand, he jumped at the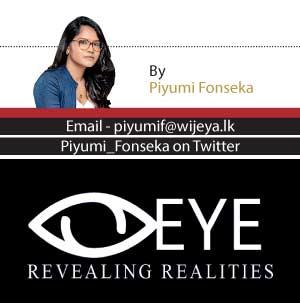 chance. Little did he know that his job would be to flirt with well-to-do Americans online in an organised crypto-currency scamming network handled by East Asian syndicates in Laos.
"By the time I realized my mistake, it was too late to flee," said Jay*, a marketer by profession. He is one of nearly 100 young Sri Lankan graduates, mostly men, lured to work in the Golden Triangle Special Economic Zone (SEZ) in Laos.

Operating from self-contained condominium compounds with access to hacking software and improved translation software, the scammers, who are themselves victims, target American citizens above the age of 37 by creating fake profiles on largely used US dating apps such as Hinge, Boo, Tinder and POF.com.

After spending days and sometimes even weeks, winning their 'trust and love,' leading to increased intimacy and heightened emotions, the scammers would convince victims to pour out money into a crypto coin called Tether, other bogus investment platforms or gambling sites.

"All the little bosses we report to are Chinese. But no one knows who the big boss is," Jay said, describing himself as being at the bottom of a shadowy, seemingly endless chain of command involving members like himself, small team leaders, big team leaders, supervisors and country leaders.
Poverty has driven many to seek ostensibly well-paying jobs in the Golden Triangle Special Economic Zone (SEZ). The victims were from India, Bangladesh, Pakistan and African countries, including Ethiopia, South Africa, Uganda, Madagascar and Rwanda.
Falling prey
Jay described how he ended up at what he termed as the 'sin city'. After being duped by a Sri Lankan friend, Jay in his search of greener pastures, flew to Bangkok in mid-December 2022 with a 3-month Thai tourist visa, clearly aware that employment opportunities were doubtful. His Sri Lankan friend, also a victim of the racket, received a commission of US$ 500 for setting Jay up. He assured Jay that the work visa will be sorted out. But, it never did.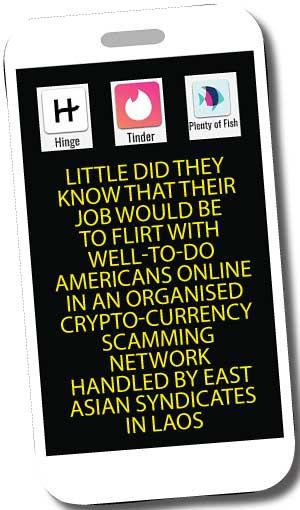 It is no secret that when some people get their passports stamped with tourist visas, the main objective is not to do sightseeing, but to look for jobs. Despite repeated warnings by the Sri Lanka Foreign Employment Bureau (SLFEB), an increasing number of unskilled and even skilled Sri Lankans are found to be misusing the tourist visa facility to travel to foreign countries and more often than not end up falling prey to human trafficking networks. In 2022, Sri Lanka saw 311,269 people leaving the country – the highest number ever known to do so. Jay is just one of the many thousands.

After being picked up from Bangkok International Airport by two individuals, Jay was taken to a 3-star hotel called Jazzotel, 25 km from the airport -- to stay until his travel documents to Laos were sorted out. However, even at this point, he had no idea what his job entailed, who his employer was or where he would be working. "It was when I received no clear response every time I asked about the job that I got the feeling that something fishy was going on," Jay said.
During the two-day stay at the hotel, he met another young Sri Lankan engineer, a Pakistani and an Ethiopian, who were also there for the same purpose. They were guided along each step of the journey by the organisers via Whatsapp. None of them knew what was awaiting them.

Two days later, the four of them were taken to their intended destination, the Golden Triangle in Tonpheung -- a riverside district known as 'Little China' in the Bokeo Province, Laos. They took a domestic flight from the Bangkok International Airport to Mae Fah Luang - Chiang Rai International Airport from where two others including their team leader Roo* picked them up and accompanied them to the border.

Then they crossed the Mekong River into Laos in a speed boat and later the East Asian team leaders escorted them to a condominium compound. Notably, Immigration officials at both the exiting point in Thailand and entry point into Laos neither stopped nor questioned them. "The team leaders seemed to be well acquainted with the immigration officials. It was a smooth process with our passports being stamped with the Laos visit visa," Jay said.
The condominium consisted of newly-built dormitories, a supermarket, canteen, tennis court, badminton court, basketball court and even spas, all catering to the needs of the scammers. Jay soon learnt that he was a victim of an organised human trafficking network, which had ensnared hundreds of other young, educated men and women with nearly all of them having a university degree.

Thereafter Jay and the others had their passports taken away; they were given new names, eight iPhones with apple licenses, eight Sim cards and recharge cards. They were then asked to install dating apps -- Hinge in three phones, Boo in two phones, social media apps such as Telegram, TextMe, and WhatsApp on two of the other phones and use the remaining phone strictly for official communication purposes. "We were given instructions to find photos of good-looking, rich, travel-loving individuals on Instagram to be used for our fake profiles on the dating apps," Jay said.
Flirt and scam
Although, it was impossible to believe that a person would palm out a large sum of money to someone they had never met; the grooming techniques adapted by these scam networks were very powerful in softening the victim. Earlier media reports said scammers used modern psychological tricks at the early stages of the ploy to establish deep-seated connection with potential victims.

Jay was asked to pose as a young woman, with the intention of targeting men over the age of 37 in the United States. He found a profile of a Turkish girl that matched the team leader's requirements after scouring Instagram for images of attractive girls. Different photos of the girl's photos were used to create three different profiles on Hinge, using three different locations in the US.

"Think like a woman. Show some attitude," Jay was instructed. The scammers were instructed on how to sweet-talk the victims and inquire about their hobbies, beliefs and day-to-day routine. "Our job was to gain their trust and make them fall in love with us. Our daily target was to obtain five telephone numbers. Then, our tech experts gave us phone numbers in the US to text the victims via the TextMe app," Jay said as he continued to describe what his job entailed.
The next and final step of the scammer's task was to convince the victims to install the Telegram app, which was not largely used in the US, saying they travelled outside the country for short periods of time and would love to continue communicating with them.
Planting the idea of "healthy investment" starts early. When sharing each other's hobbies, the scammer says, "travelling, listening to music, reading, spending time with friends AND investment." Then, when the victims ask, "What are you doing now?" the scammer says that he is reading, showing a photo of a book on crypto currency. These occur over time as trust and emotional connections deepen.

Jay said as soon as the process comes to the stage where the victim is finally convinced to install Telegram, the team leaders take over. It was not easy for Jay, who claimed to have been struggling with guilt feelings since the start of this job.
"I felt disgusted, when I came to realise what I was involved in. I did not want to die at their hands and was aware that resistance was futile," he said and added that those who resisted had to pay a high price. "When they fail to meet the daily targets, they are forced to work for 20 hours a day, while some of them were even meted out physical punishment, such as 100 squats, 100 push-ups and even electric shocks."

In the presence of Jay, a Bangladeshi, who raised his voice to a team leader, was electrocuted. Feeling utterly disappointed and hopeless, another Human Resources graduate from Bangladesh attempted suicide by jumping off the condominium. Fortunately, he was stopped by others.
Jay said there were a few Sri Lankans known to be the best scammers, with the most number of duped victims. However, Jay and his team did not receive the promised salary as they failed to lure a sufficient number of victims online. When the Chinese team leaders started using physical punishment, Jay and a group of scammers, including two Sri Lankans, protested by not reporting to work.

That meant having to pay a higher price. They were all fired at once. Jay and the others – a group of 16 young men, including three from Sri Lanka – are currently without any salary or funds to buy a ticket to return home. But they have no intention of doing so either. "We have been asked to pack our things and leave the condominium. Even if I find the money to buy a plane ticket, I cannot go back home empty handed," Jay said.
This group is currently planning to join another scamming network operating within the Golden Triangle targetting Australians. It is unfortunate that young and educated Sri Lankans like Jay, knowing how unsafe and uncertain their jobs and even their lives are, are not willing to return to their Motherland, which they believe provides no viable opportunities for youth.
Sri Lankan agents
Despite the fact that Jay was duped by a close friend, there is an organized group of Sri Lankans involved in sending citizens along the human trafficking pipeline to Laos. While one group is based in Laos, those staying in the same apartment compound are responsible for handling the Sri Lankans there. Another group is based in Sri Lanka and they approach individuals, brainwash them, prepare their travel documents and drop them at the airport.
Jay is of the view that some Sri Lankans have returned home after their families paid for the tickets or found money to do so, but many are afraid to share their experiences for fear of risking their lives.

Meanwhile, last Monday (Feb. 6, 2023), the Special Investigation Division of the SLFEB arrested an Ambanlanthota resident on charges of taking Sri Lankans to Laos on tourist visas promising to find them jobs in Thailand. He was produced in Court and remanded until February 20. Efforts were also being made to nab another man who fled during the raid. Reports say the main suspect had allegedly defrauded the victims of nearly Rs.1.9 million.

SLFEB spokesman Gamini Senerath Yapa advised Sri Lankans to desist from seeking foreign employment through questionable channels. "Do not trust agents. Do not even trust your so-called friends. Make sure you first secure a valid employment visa if you plan to work overseas. If you misuse your tourist visa, you will face dire consequences depending on where you are from and who you are with."
Tip of the iceberg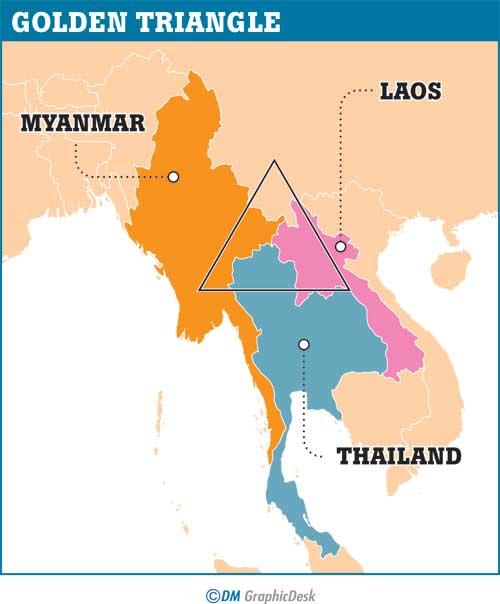 The Golden Triangle, which spans a land area of 10,000-hectares is located in northwest Laos. It is effectively run by Chinese national Zhao Wei, who owns Kings Resort Casino. The United Nations Office on Drugs and Crime (UNODC) Regional Representative for Southeast Asia and the Pacific, speaking to Laos media recently said, "The Golden Triangle is one of the most prolific and notorious economic zones and Zhao Wei and his group are clearly well financed and able to move money despite sanctions".

The United States government, in its 2022 'Trafficking in Persons Report' said, "Victim protection services were disproportionately unavailable in Laos to male victims of trafficking and anti-trafficking awareness and capacity among border officials in key transit areas remain low despite ongoing government training initiatives".
Special Economic Zones are business parks or cities that have been granted exemptions from most national-level economic regulations. They often enjoy tax breaks, different labour laws, special visa rights, import and export exemptions and streamlined regulations. There are more than 7,500 SEZs in 100 countries worldwide.
*Names have been changed due to security reasons