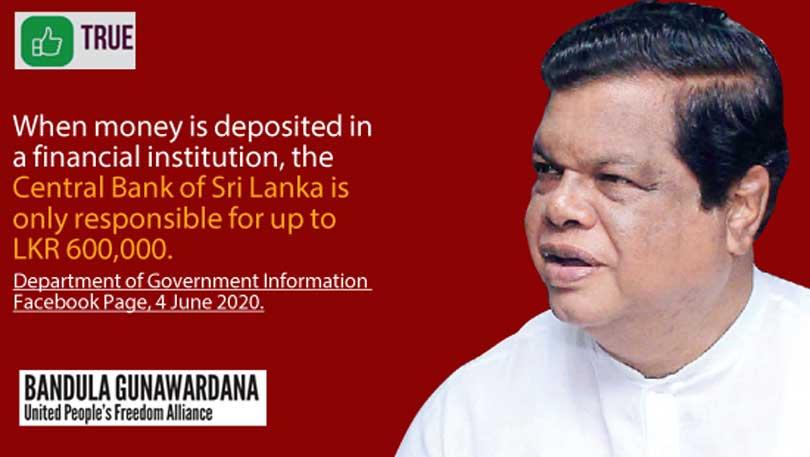 To evaluate this claim, FactCheck consulted the Monetary Law Act, Finance Companies Act and Sri Lanka Deposit Insurance Scheme Regulations. The legislative framework for deposit insurance in Sri Lanka is established by Sections 32A to 32E of the Monetary Law Act and Sections 27 to 30 of the Finance Companies Act—both of which place the responsibility for deposit insurance with the CBSL. Meanwhile, the operative framework for deposit insurance arises from the Sri Lanka Deposit Insurance Scheme Regulations, No. 1 of 2010, as amended.
Section 4.1 of the regulations specifies that "all Commercial Banks, Licensed Specialized Banks and Registered Finance Companies shall be members of the scheme".

Section 9.6 of the regulations specifies that "the amount of compensation payable to a depositor shall be limited to the total insured deposits computed as above, subject to a maximum of Rs. 600,000 or its equivalent…"
This means that under current regulations deposits in banks and finance companies are guaranteed only up to LKR 600,000 by the Sri Lanka Deposit Insurance Fund, which is managed by CBSL and has assets amounting to LKR 65.1 billion. FactCheck assumed that Gunawardana's claim that the "CBSL is responsible" was meant to indicate the responsibility placed on CBSL through laws and regulations with regard to deposit insurance.
Therefore, we classify the Cabinet Spokesperson's statement as TRUE.
*FactCheck's verdict is based on the most recent information that is publicly accessible. As with every fact check, if new information becomes available, FactCheck will revisit the assessment.
FactCheck is a platform run by Verité Research.
For more fact checks, visit www.factcheck.lk.