The Perahera was attended by PM Mahinda Rajapaksa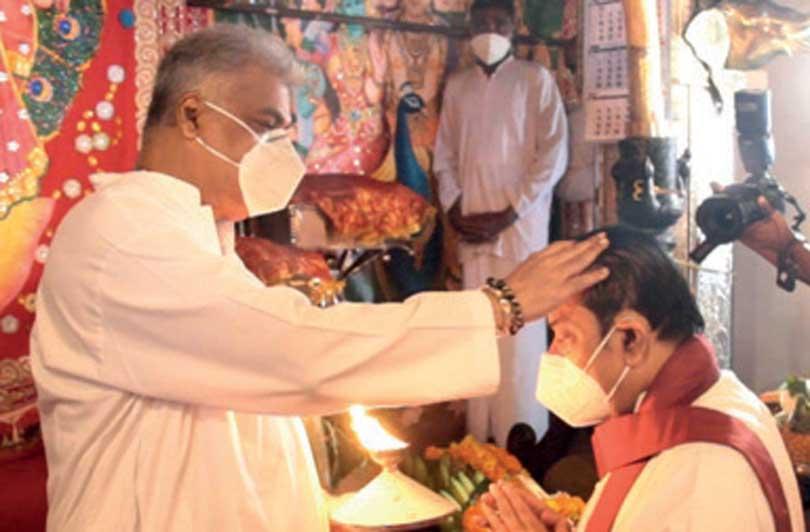 By K. D. Devapriya and Nelson Piyaratne - Kataragama
The first days night perahera of the Ruhunu Maha Kataragama Devalaya Was held on Saturday night (10) attended by Prime Minister Mahinda Rajapaksa.

The procession left the Devala premises at the auspicious hour of 7.34pm and proceeded through the Main Street to the Valli Amma Devala and returned to the Maha Devala after performing traditional rituals. The flag to mark ethnic brotherhood was hoisted in the Mosque premises in the Kataragama sacred city.

The prime minister attended religious activities and rituals held at the Kataragama Maha Devalaya to commence the Esala festival on Saturday Night.

He performed religious observances at the Ashtapala Bodhiya and made a pooja at the Kataragama Maha Devala with 32 kind of fruits, vegetables, herbs and grains endemic to the Monaragala and Hambantota Districts and invoked the blessings of the God to bring health and happiness to the people. He also watched the first days night perahera.

The PM and State Minister of Agriculture Shashindra Rajapaksa planted coconut saplings in the Devala grounds to mark the tree planting campaign in the Southern Province.

Kataragama Basnayake Nilame Dishan Gunasekara, Chief Incumbent of Kiri Vehera Ven. Kobawaka Dhamminda Thera, Monaragala District Secretary Gunadasa Amarasinghe, Hindu and Muslim dignitaries also took part at the festival.