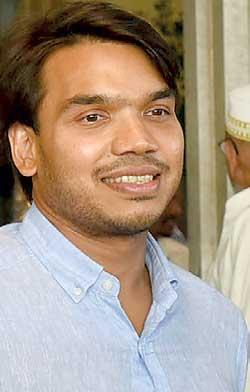 By Yohan Perera and Ajith Siriwardana
Minister of Sports and Youth Affairs Namal Rajapaksa's request to mete out justice to those youth held in prison, without pending legal action, was endorsed by the Opposition yesterday.

Mr. Rajapaksa said there were 13 youth who had been in prison exceeding the sentence imposed by the Judiciary while there were 116 against whom indictment had never been filed. "In addition there are 38 youth against whom court cases are pending. Some cases are pending for more than 20 years," Mr. Rajapaksa said.

" I got to know this when I was serving in prison during the last regime. I was able to learn something which my father could not teach me, while I was in prison as I was able to see the plight of the prisoners," he added.
" The UPFA government in 2014 managed to rehabilitate 12,000 LTTE combatants and absorb 3,500 of them into the civil defence force. Therefore there is always a possibility of releasing or rehabilitating the youth who are held in prisons," he said.

SJB MP Field Marshal Sarath Fonseka who endorsed the comment made by Mr. Rajapaksa requested the release of the youth who drove the vehicle of the suicide bomber who blew herself up at the army headquarters. "The person who planned the attack on me have been serving in prison for 15 years and it is sufficient period of time. Therefore please release him," he said,

MP Gajendrakumar Ponnambalam while responding said both the PTA and ICCPR Act should be abolished. "While endorsing the request made by Minister Rajapaksa I would like to request that the PTA and ICCPR Acts be abolished as people are being harassed using these legislations," he said.
TNA MP- M. A Sumanthiran also endorsed the request made by the Minister.