Take action against conspirators in the party
I want the leader to clean up the party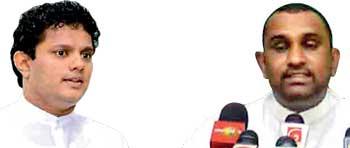 By Yohan Perera
SJB MPs Hesha Withnage and Chaminda Wijesiri confirmed yesterday that they have resigned from the positions they were holding in the party.

They stressed that the SJB leadership should get rid of those who were engaged in conspiracies and to clean up the party.
"We have resigned from the party organizers' posts a few days ago but did not go public about it. However some conspirators have leaked this information to the media. We want the party leader to find out who leaked this information to the media and take action against them," Mr. Withange told a press conference.

Both MPs denied reports that they were to cross over to the government shortly.

"SJB Leader Sajith Premadasa is in a position to become Sri Lanka's head of state but there are some who are out to sabotage this move. Therefore we expect Mr. Premadasa to take action against the conspirators and clean up the party," he said.