The health authorities had conducted 25,232 PCR tests on May 1, and there had been 1,662 positive cases
According to the World Health Organisation (WHO), the positivity rate should remain below five for two weeks in a row for a country to consider opening up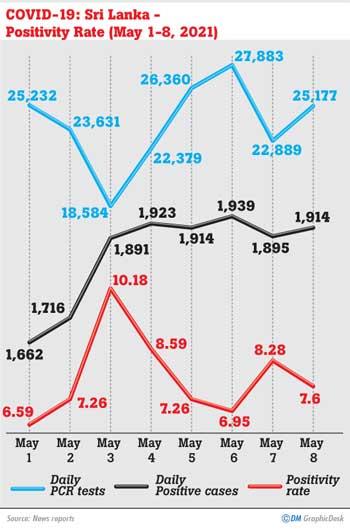 By Kelum Bandara
The Disaster Preparedness and Response Division of the Health Ministry said yesterday that seven percent of PCR tests carried out in the first week of May had returned positive.
The health authorities had conducted 25,232 PCR tests on May 1, and there had been 1,662 positive cases. Accordingly, the percentage of positive cases was 6.59. The positivity rate increased to 7.26 percent on May 2 after conducting 23,631 tests.

The percentage of positive cases remained as high as 10.18 after 18,584 PCR tests were conducted on May 3 and 8.59 after conducting 22,379 tests the following day. On May 5, it remained at 7.26 for 26,360 PCR tests while,the rate dropped slightly the next day to 6.95 for 27,883 tests. It saw a slight increase once again on May 7 with a rate of 8.28 for 22,889 tests conducted.

The Division said there were 25,177 PCR tests done on May 8 with the percentage of positive cases remaining at 7.60.

According to the World Health Organisation (WHO), the positivity rate should remain below five for two weeks in a row for a country to consider opening up.
The percentage of positive cases remained as high as 10.18 after 18,584 PCR tests were conducted on May 3 and 8.59 after conducting 22,379 tests the following day