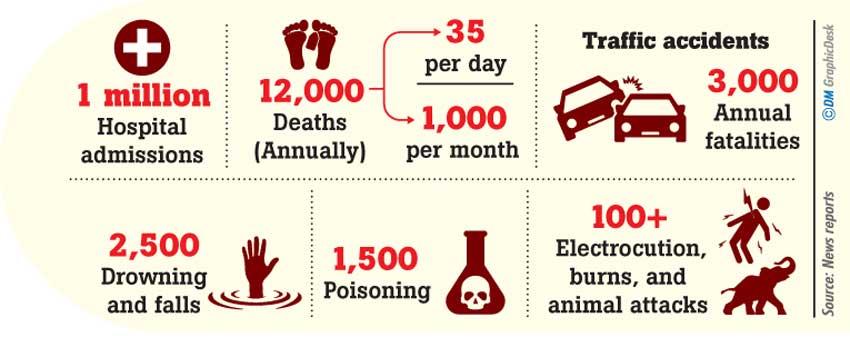 Road accidents top the list among the leading causes of fatalities
By Sheain Fernandopulle
In a shocking revelation, Health Minister Dr. Ramesh Pathirana said approximately 1 million hospital admissions and 12,000 deaths are reported per year in the country due to accidents.

This staggering number highlights the significant danger and urgency surrounding this issue, stressed the Minister. He expressed this while addressing the International Conference on Injury Prevention held at the Waters Edge recently.
In addition, these accidents result in around 12,000 deaths annually, which equates to an average of 1,000 deaths per month or nearly 35 deaths per day.

"Traffic accidents result in approximately 3,000 annual fatalities, suffocation (including strangulation) claims the lives of around 2,000 individuals, while drowning and falls contribute to an additional 1,000 and 1,500 deaths respectively. Various types of poisoning lead to approximately 1,200 fatalities, while hundreds more succumb to electrocution, burns, and animal attacks. The individuals aged between 15-44 are susceptible to these accidents," he said.

"Among the leading causes of these fatalities, road accidents top the list. This alarming trend demands immediate attention and action to address the social impacts, prevention measures, remedial actions and the strengthening of various sectors involved in tackling these issues," he underscored.

The Minister of Health has expressed full commitment to implementing effective policy actions in response to this crisis.
---
---