---
Arecanut trade has become a money spinner for two businessmen in this country.



They buy it dirt cheap from Pakistan and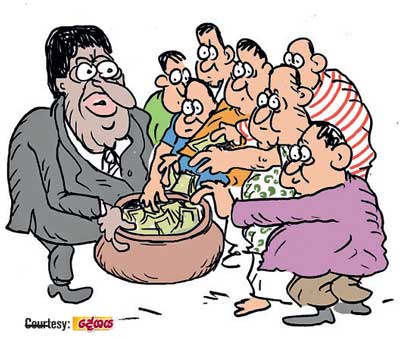 sell it to India at a high price thus making a huge profit from every shipment, they say.

Only two businessmen here had been holding the virtual monopoly of the arecanut trade for a long time. One of them is a brother of a national cricketer holding a world record for his spinning prowess.

Recently a political bigwig of the new government hailing from the Colombo district had demanded a sizeable cut from the huge profit that the arecanut traders were making. The cut demanded was so big that the two traders could not immediately give a positive response.

Furious that his demand had gone unheeded, the political bigwig had ordered his officials to issue permits for arecanut imports and exports to five other businessmen of his choice.

Now the political bigwig is happy that he is assured of a sizable 'something' at least from the new five entrants to the trade, they say.