---
There is a government department entrusted with the statutory function of carrying out a systematic and independent examination and verification of accounts and records, especially of financial accounts of all state establishments, state authorities and state-owned undertakings at regular intervals and also whenever the necessity arises.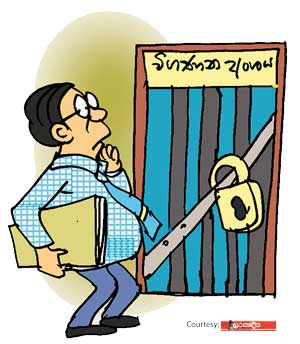 Meanwhile, it is a well-established and recognized practice for this department to have its own accounts and records examined and verified by an official unit functioning internally. One might be surprised to hear that this important internal unit has become dysfunctional for some time for want of a head to direct and supervise its operations. Here please do not rush into a wrong conclusion; the appointing authority, the General Treasury has appointed a competent and qualified official as head of this unit. The department head has sent the official back without allowing him to assume his duties!
According to internal sources, the department head is making a deliberate attempt to cripple the functioning of this internal unit in a bid to prevent the exposure of some financial irregularities he himself committed!