---
Gabby Senior Banda from the hills who had to make it to Diyawanna through the 'list' the other day sought the approval of the top team for a supplementary estimate involving a hefty amount for putting up a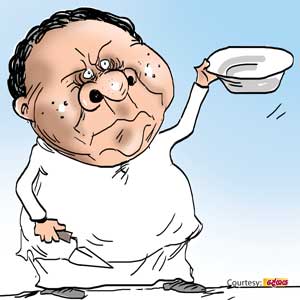 headquarters for 'the poor relief' campaign. He also had proposed that the estimated expenditure be met from the monies available in the 'poor relief' bank.

The authorities in the highest echelons in yahapalanaya had made discreet inquiries as to why the purohita had brought up a costly mega project like a bolt from the blues.

So the authorities had advised him to give up the idea saying that constructing costly massive buildings is not the need of the hour. Highly dejected, the purohita is with a long face these days, they say.