---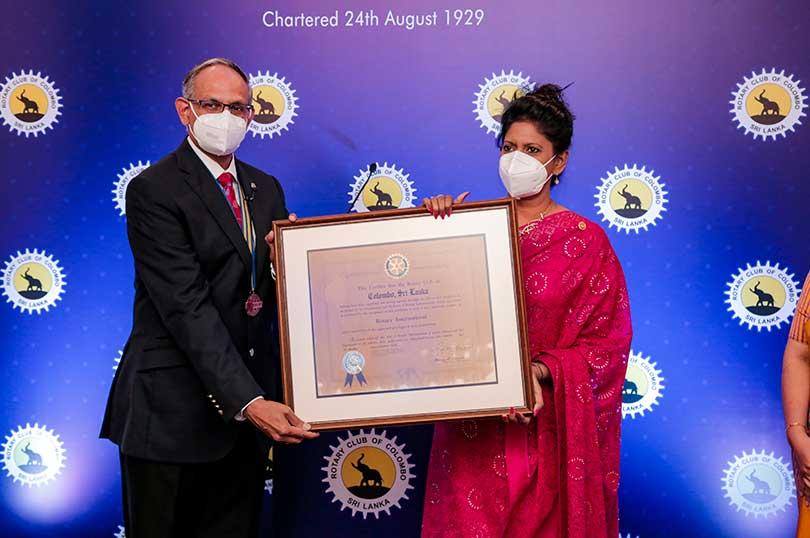 Founded in 1929, making it the oldest and also the largest Rotary Club in Sri Lanka, the Rotary Club of Colombo held a virtual installation to induct its 93rd club president, Rtn. Aroshi Nanayakkara.
In a meticulously planned and executed virtual installation ceremony, the mantle of leadership of the hallowed Rotary Club of Colombo was transferred from outgoing president Nithi Murugesu to President Aroshi Nanayakkara and her new Board at a ceremony witnessed by Rotarians from around the globe. The ceremonial rituals to transfer the Presidency of the Rotary Club of Colombo involves the giving of the collar, gavel, gong and club charter to the new president followed by the formal words of acceptance by the new President.
Aroshi Nanayakkara is the CEO of the Global Consulting Company and an Independent Non-Executive Director, Sampath Bank PLC, Asian Hotels & Properties PLC (John Keells Group), Hela Clothing (Pvt) Ltd, Foundation Garments (Pvt) Ltd, Vice Chairman & Board Director, Sri Lanka Institute of Directors and Chairperson, Women Director's Forum. Aroshi has been an active member of the Rotary Club of Colombo for over 25 years and has held the post of Hony. Secretary under three Club Presidents as well as held other positions including Director International Services and been on its Board on several occasions. She has, over this period, contributed to many of the Club's service projects and other activities.
In an inspiring speech to her fellow Rotarians, President Aroshi said;
"I take over as President during an year that sees no abating of the Covid pandemic. In fact, matters look bleaker by the day. A new Covid variant has made entry into Sri Lanka and as per reports today, a far more virulent and deadly 4th wave is set to hit us within the next 10 weeks. Our medical system which is already taxed severely will be at breaking point. The livelihoods of many lower income families will be further compromised leaving them destitute and in need of basic necessities such as food and shelter. Undoubtedly, our efforts this year will focus on the dire needs of the country; On the one side, the health care system which will require essential medical supplies, machinery and drugs; and on the other side, alleviating the pain and suffering of the less fortunate who have been severely affected by the pandemic from the loss of livelihoods. The Community Services committee is already working on many projects to supply critical equipment to hospitals which require them as well as to bring relief to the needy in the coming months. We are looking at partnering with our international sister clubs to put through many Global Grants which will also be actioned this Rotary year.
"The Rotary Club of Colombo has been a great proponent of the youth movement with many Rotaract and Interact Clubs being sponsored by us over the years. We will continue our efforts in building youth leaders and have planned an active year where the creativity and leadership of youth will be brought forth for humanitarian aid. Many health related, vocational service related and youth related projects have already been planned by the service chairs and will go into action now.
In Rotary, there are two underlying truths that govern and guide us. They are Fellowship and Service. One without the other, is not Rotary. It is ultimately the strong ties and bonds of friendship that have been the foundation upon which our club has built its reputation of service. A cornerstone of my presidency this year will be in rebuilding and strengthening our bonds of friendship within our membership, within the district and with our sister clubs.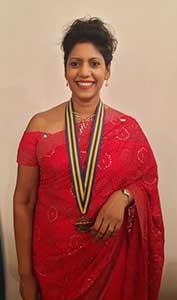 I have been an active Rotarian for over 25 years now where I joined the club soon after my graduation from MIT. I was the youngest member then bringing the average age of the club down by many notches! Many of my fellow club members have practically seen me growing up here! So, to me, you are not mere Rotarians, you are not even just friends, you are almost family!"
President Aroshi in conclusion stated "I would like to end with a wish for health, safety and a quick return to normalcy to all of us gathered here today and with a quote from Robin Sharma: "Remember that the happiest are not those getting more, but those giving more."
President Aroshi Nanayakkara then introduced her Board for Rotary Year 2021-22. The new team comprises of many leaders in Sri Lanka's corporate world and has a dynamic mix of experience and youth to achieve the service objectives of the Rotary Club of Colombo.
The outgoing president Nithi Murugesu who saw the club through with some amazing projects in a pandemic year showcased his achievements and also celebrated the recognition received by the club as a 100% Paul Harris Fellow Club.
The chief guest His Excellency David Holly, Australian High Commissioner for Sri Lanka & the Maldives, who is also an Honorary member of the Rotary Club of Colombo, spoke of the relationship he has had with the club and the trade ties between the two countries. District Governor Aruni Malalasekera gave an inciteful talk on the fellowship of Rotary. The ceremony concluded with a vote of thanks by Secretary Anitra Perera.
The Rotary Club of Colombo has done some outstanding projects during the past years with many of these being continued in the new Rotary year. Some of the new and ongoing projects of the Club are as follows;
•
The Cancer Prevention & Early Detection Centre,
•
Project for Eliminating Cervical Cancer from Sri Lanka,
•
Covid Emergency Equipment provision to hospitals across the country,
•
Plastic Waste Recycling Project,
•
Environment First – Tree Planting Project
•
Vocational Training & Corporate Internship Project
•
Primary Schools Classroom Project,
•
Entrepreneur Centre in Vavuniya,
•
Safe Drinking Water Projects in Anuradhapura,
•
Water sanitation Projects,
•
The Children's Playground Equipment Project
•
Provision of Emergency relief through Reachout and Charity Apple.
The Rotary Club of Colombo is looking forward to an exciting new Rotary Year with President Aroshi Nanayakkara and her Board and Service Chairs at the helm of this strong and vibrant Club.