---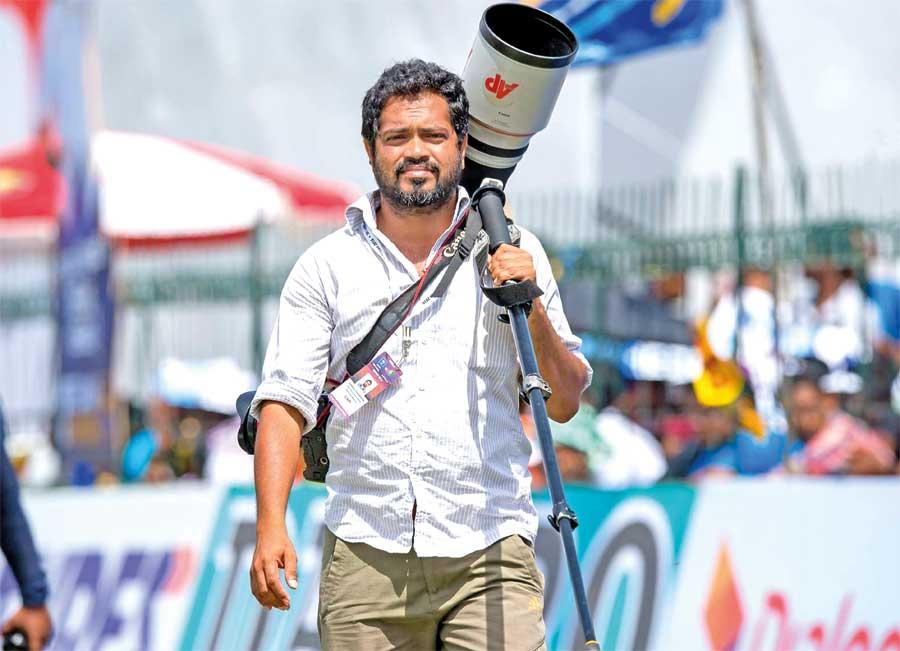 This is big, very big. This is rock start territory. No other Sri Lankan photographer or journalist had gained this recognition. And if there was anyone who deserved this accolade, Eranga is top on that list
The government military had controlled access to within 100km of the theatre of fighting for months now. The narrative was controlled by a physical noose. No one without authority was allowed beyond Medawachchiya either way
I desperately needed the first-hand accounts of the civilians who had fled. And there were a few options of getting this despite the unceremonious offloading. The easiest was to contact a bunch of journalists from a neighbouring country who were placed somewhere beyond Vavuniya
It was the week after Avurudhu in 2009. The war was entering its last three weeks. The international media attention on Sri Lanka was unprecedented. I was working as a freelancer for

TIME and working on the biggest story that was happening in the world at the time.
A few days before, over 100,000 civilians had come out the hell that was macabrely named No Fire Zone. The military was organising to airlift a group of journalists into Kilinochchi to give them access to the fleeing civilians. I had pitched the story and got the go-ahead. For the first time since the final phase of the war began, I had secured a seat in one of these 'embedded' trips.

The government military had controlled access to within 100km of the theatre of fighting for months now. The narrative was controlled by a physical noose. No one without authority was allowed beyond Medawachchiya either way. Access was used as way of censorship, you don't reflect the script set by the Rajapaksa PR machine, you don't get access was the simple formula.

Finally, as victory was inevitable, the government spin doctors had relented and given me a seat. Or so I thought. I arrived at designated helicopter collection point, only to find that my name and those of a few others had been taken off. Ostensibly for lack of space, but in reality, to accommodate a few fan boys and girls who were going on a site seeing tour.
I desperately needed the first-hand accounts of the civilians who had fled. And there were a few options of getting this despite the unceremonious offloading. The easiest was to contact a bunch of journalists from a neighbouring country who were placed somewhere beyond Vavuniya. They were selling stories and information at top dollar as a side hustle and in fact had contacted TIME's New Delhi office with offers. We had rejected that. The next was to talk to Eranga Jayawardena and tell him my problem.
I told Eranga the hole I found myself in. His answer was, "no worries machang, you will get what you want, give me the details." I told him that I was looking for first hand accounts from fleeing civilians. That afternoon I had them, with all the details. I filed my story.

While shooting pictures on the biggest story in town, competing with every other photographer both local and international, Eranga had taken the time to talk to a few civilians, take notes and relay them to me. There was no compulsion for him to do that. I had not done anything anywhere close to that for him ever. He did it because he saw my desperation.
Fast forward 14 years, I get an early morning message from another war time colleague, Buddhika Weerasinghe, now living in Japan alerting me that Eranga has been shortlisted as a finalist for the Pulitzer Prize for breaking news with another AP photographer.

This is big, very big. This is rock start territory. No other Sri Lankan photographer or journalist had gained this recognition. And if there was anyone who deserved this accolade, Eranga is top on that list.
In a community full of cartoonish self-promoters, Eranga prefers to do his job and go home. He said as much to the BBC soon after he was honoured by the Pulitzer. He is not the flashy type. That however is not to say that he is a pushover.
He is one of the most talented, dedicated and professional journalists out there.

Several years back, he documented the community tragedy that was unfolding in the North Central Province with the rapid spread of renal failure cases. He did so by photographing the life of one victim. It starts with an active man, going about his daily routines, that included regular visits to the hospital to treat the onset of kidney failure. The last images are of an empty house after the demine of the protagonist. It is an intimate look into lives. it does not pry open their lives. It is more a gentle act of looking through the hourglass of the unfolding tragedy.
The documentation demanded the photographer integrate himself in the life of his subjects at the risk of emotional embedding. Eranga also had to deal with the expectations from those who he photographed. They expected their lives to change significantly on the access they had provided. An emotional tight walk if ever.
The collection of images is in equal part long form news documentation and visual narrative history.
There are very few like Eranga around. In a playing field dominated by click bait hunters and charlatans masquerading as the best out there, those like him are lone warriors. Shunning the limelight, both offline and online.

At a recent workshop I did, I invited Eranga to come in and talk to the participants, mostly young journalists from the provinces. One question he was posed was that whether he considers himself a hero.
His answer was a deadpan no. He told the group he does nor run into danger. He tries to avoid it and document the story. Not the gesticulating social media monkey. We get the real deal instead.
This accolade is long overdue, my friend. From here onwards and upwards.

The writer is a journalism researcher and a PhD candidate. He can be contacted on amantha. [email protected]