---
We weave a funeral shroud for a man who died
Sannaliyane…, Sannaliyane, Katada Saluwa Wiyanney?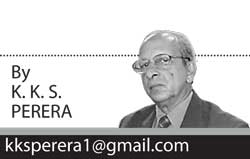 "…Seetala handa eliye - …Malawunu muhunin wewulana dethin, Katada saluwa wiyanney ; …Seetala saluwa wiyanney, Miya giya eyage Miniya wahannai Seetala saluwa wiyanney"

Weaving solemn and still, weavers, what do you weave in the moonlight chill? . . . White as a feather and white as a cloud… We weave a funeral shroud for a man who died.

'You sing not with vocal chords but with heart' – Amaradeva
Poetically recited by genius Amaradeva, the song originally composed by Sarojini Naidu, the 'Nightingale of India' and adapted by the celebrated Sinhala lyricist Mahagama Sekara, has mesmerized millions of perceptive minds. The Weaver's Song is a timeless heart rending creation that gives some insight into life's touching and foreseeable flow from birth, life and death in three stages.Amaradeva has given life to the lyrics that Mahagama Sekara, Dalton Alwis and Sri Chandraratne Manawasinghe wrote.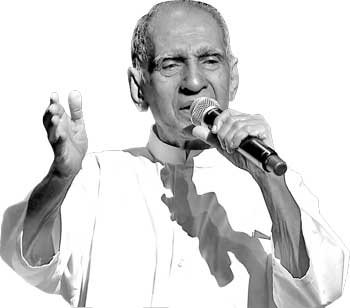 "Sanda tharu Nihandai - Gahakola Nisallai"
Music enthusiasts are starved of real quality material. The way the young and the old assembled at the BMICH last Sunday to listen to celebrated singers perform at the Ven. Rambhukkana Siddhartha Thera's felicitation for forty years as a lyricist. By the time the function commenced, all 1,600 seats were occupied. There was pin-drop silence as the master got up to speak; with some effort he made a few timely comments, and sang a four-line verse, a special creation paying tribute to the Priest, I suppose, but it was not Amaradeva, and he left the hall immediately. Perhaps, the maestro's final performance. I was fortunate to be there.

He used his birth name Wannakuwatta Waduge Don Albert Perera until Professor Ediriweera Sarachchandra made him an 'Immortal God' or Amaradeva. He was the recipient of numerous awards including the Indian Padma-Sri Award in 2002, Ramon Magsaysay Award in 2001; [the first Sri Lankan to receive them] President's Award of Kala Keerthi and Deshamanya in 1980s. The French Government honoured him with the prestigious Officier in 2003. Pandit Amaradeva composed music for the Maldivian National Anthem in 1972. However, his first award was in1945, when he won a gold medal at the Jana Kala Mandalaya's music and violin contest. The foundation awarding the Ramon Magsaysay in the field of Creative Communication Arts, recognised Amaradeva saying, "…his life of dazzling creativity in the expression of the rich heritage and protean vitality of Sri Lanka Music."

His skilled carpenter father who crafted musical instruments in Koralawella, Moratuwa introduced music to his young son when he presented his son with his own instrument on his seventh birthday. His Christian mother sang hymns for the son to strum the violin. Amaradeva was privileged at an early age to learn Indian classical music from his elder brother. From Koralawella School, he entered Sri Sumangala College, Panadura to study in the English medium.

"Ma mala pasu Sohon kothe Duk Geeyak liyanu Menavi"
Violinist, Singer, Dancer and Actor

The filming of 'Ashokamala' commenced in 1946. Gerard J. Pieris of Moratuwa introduced Amaradeva to Mohamed Ghouse Master who was handling the music for the film and Ghouse recognising Amaradeva's skills enrolled him as a violinist in his group. Amaradeva accompanied Ghouse master to India to play a quadruple role in the film Ashokamala. The song "Ayi Kale Yameku Aley" became an instant hit.

Fusing classical Sinhala verse with his unique musical modulation, he produced a few pieces of music to reflect a philosophy unique to the spirit of the nation. His popular works, however, are the creations he did with lyricist Mahagama Sekara. He composed music for Chitrasena/ Vajira ballets, Karadiya and Nala Damayanthi, in the film industry he contributed music to Ran Muthu Duwa, Ransalu, Rena Giraw, Gam Peraliya, Delovak Athara, Gatavarayo, and Thunman Handiya.

He once demonstrated how he was enthused by Professor Sarachchandra to search for operatic traditions in producing music for 'Loma Hansa' and 'Vessantara.' These certainly demonstrate Amaradeva's versatility.

In 1950, he left for Bathkande, India; Amaradeva believed that in this land the base of its music had to be the Indian raagahadhari tradition.

He used his inherited craftsman skills in creating a new instrument called the Mando-harp, an instrument combining the harp and the mandolin.

"Numbe katin gee Seepada ahannata –Thamath Giraw enawa pera Puruddata"
Meeting Sunil Santha and Chitrasena

Meeting Sunil Santha and Chitrasena was a turning point in his early career. Sunil Santha had a music class in Moratuwa, where he met young Amaradeva and invited him to Chitrasena studios. The next day, the young violinist met Chitrasena, Sunil Santha, A.J. Ranasinghe and Somabandu Vidyapathi. He was asked to play the violin; the team, all residents at Chitrasena studios was extremely happy with his performance and on the same day, he returned to Koralawella with A.J. to collect his bag and baggage. Amaradeva was AJR's room-mate for a few months until he moved into Somabandu's room upstairs at Chitrasena studios.

"I routinely sing it as the last item in my musical concerts; and audiences invariably, spontaneously and enthusiastically join in as I sing it. On such occasions I feel one with them" –Amaradeva, referring to song Ratna deepa janma bhumi…

The voice of Amaradeva is timeless; there is no beginning or end. This versatile musician's deeply-resonating voice pleased the music fans. This legend of music was pleasing, smiling and entertaining with a sense of good humour. He leaves wife Wimala, son Ranjana Amaradeva, and two daughters Subhani Amaradeva, herself a talented vocalist, and Priyanvada Amaradeva.

"Pinketha Hela Ran derane Yali upadinnata Hethu wasana wewa!"