---
The COVID-19 pandemic poses many questions regarding school education. One is why should students return to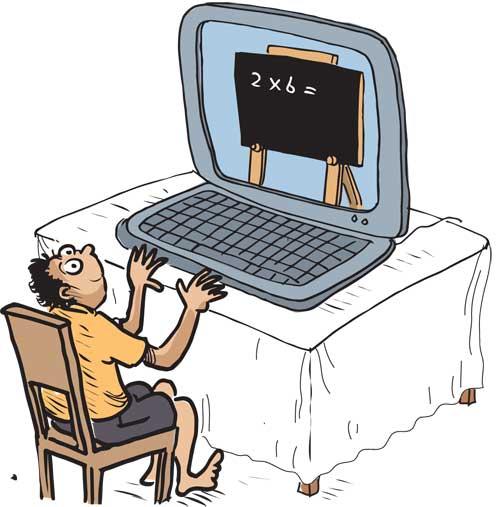 school at all if technology was used effectively in providing knowledge during this break taken from education inside an institution?
Parents will vouch for the fact that students enjoyed the use of learning devices like laptops and smart phones in the task of down loading tutorials sent to them by their school teachers.

One of the advantages of this method of providing education, during this pandemic, is that the students can pick the time of learning. They (Students) are in a way 'bosses' and can set their time for education. But education experts warn that still parents must have some control over their children in the use of learning devices due to the presence of internet use.
These experts also have provided guidelines for parents for the task of supervising their children in 'home education'.

Parents have been told to make children have a set time to get up and go to sleep. They must also ensure children have regular meal times. These experts also recommend regular breaks during education and allow or create time for children to engage in physical activities.
We can take a cue from the planting community in the tea estates. Most planters in these tea estates are alone and away from their families; hence there is a tendency for them to go 'wild'. Most 'trainee managers' in the tea planting industry have been advised to dress for meal time when they are alone in the manager's bungalow. This is because a person with authority when alone can develop very unhealthy or unbecoming habits. The dressing up during meal time is a reminder to these planters, both rookies and veterans, that discipline is as important as the air one breathes. Students locked down at homes during this pandemic must follow this habit of planters in maintaining discipline during this crisis.

There are enough of stories about some of our own parliamentarians being given home education. Some of the most erudite ladies in the Sri Lankan society were home educated.
But then we must return to the question why our present 'home educated generation of students' must return to school when the coronavirus is eliminated.
The present generation must be taught several old lessons here: The school is not a place where our learning is restricted to the use of books. It is a place where we learn to share and care and be sensitive to the needs of others. It is a place where cultured children are exposed to others from all walks of life. It is also the place where the less aggressive ones learn to survive among the aggressive and less ambitious ones learn to raise the bar or hence be left out of the race. 'School' is a once in a lifetime period and being with other children and getting that community feeling is one vital ingredient in recipe that produces an all-round student.

The COVID-19 pandemic made the educational authorities accelerate the development of the online learning process. This crisis will push the educational authorities to demand more from technology experts and the latter will in return have to sweat to upgrade their devices. As much as the internet is used these days to educate children it would be a miss if no mention is made of the Government's efforts to use state television and provide an education to students studying for the O'Level and A'Level examinations.
Home education using technology opened the eyes of school teachers to new dimensions in education. But this system of learning also underscored the fact that the life lessons learned inside the boundaries of the school can never be offered in the process called home education, even if the best of technology is used.