---

16 Days of Activism: an annual campaign that spans from the International Day for the Elimination of Violence against Women (25th November) to Human Rights Day (10th December), highlighting that gender-based violence is an abuse to a woman's human rights. This year's theme is 'From Peace in the Home to Peace in the World: Let's Challenge Militarism and End Violence Against Women', which raises questions for post-conflict regions such as Sri Lanka, about how women and girls are disproportionately affected by conflict.

Sri Lanka is in a position to embody this theme – despite there being an end to the war, for many women there may be unrest at home. The 16 Days of Activism is a time to look at ourselves and the power dynamics of our relationships, to locally challenge gender inequality in our communities, and to look globally by standing in solidarity with others that demand that women's lives should be free from the fear of male violence.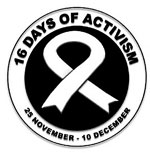 Domestic abuse is widespread, causing more death and disability amongst women aged 15-44 than war, cancer, malaria and traffic accidents globally. Unfortunately this will be a reality for one in three women who can expect to be "…beaten, coerced into sex or otherwise abused by an intimate partner in the course of her lifetime" (UNIFEM, 2003).
I am a community and youth worker in the UK, who recently visited Sri Lanka where I met many inspirational survivors of violence and witnessed many comparisons between women's centres in Jaffna and Manchester, UK.

On my return to the UK, I continued to volunteer at The Pankhurst Centre, which is not only a women's centre but also the birthplace of the Women's Social and Political Union – the Suffragettes – who can be accredited with gaining the right for women to vote in the UK. I spoke about the politics of women's movements in both countries and came to realise the commonalities between survivors in Sri Lanka and the UK. The women at the Pankhurst Centre raised similarities between post-conflict Sri Lanka and post-conflict UK, highlighting that the Suffragette movement only succeeded in giving women the right to vote following the end of World War I. Now that the political focus has shifted in a similarly post-conflict situation, perhaps the Sri Lankan women's movements will achieve similar leaps forward towards equality in other areas.

We know that women in Sri Lanka and the UK both experience gender-based violence and that domestic abuse is one of the biggest threats to women globally, but what are some possible solutions? Here's a quote from a focus group I held about why domestic abuse provisions in the UK should not be cut:

"I know a woman who did leave her partner, because she got empowered by this community group and they'd get free childcare. When she got this free childcare and she got a CV and she got the job skills – she went out there, she got a job; she put her child in a nursery. And now she's doing much, much better. And... more self-sufficient"
I feel that this woman's story encapsulates the kind of empowering support that women who are trapped in controlling relationships deserve to receive support.

I advocate for the provision of specialist services like the one that supported this woman is both necessary and something tangible that we can campaign for during 16 Days of Activism.

It is however important to remember that abusive relationships are based on power and control, and that it takes time for women to understand that this is what they are experiencing.

Solutions should come from the women themselves but in order to do this they need to feel empowered so that they are able to make informed choices.

From working within domestic abuse provisions I hear women repeat the same phrase all too often:
'I just want to feel safe'. Women deserve to feel safe, so "let us take this issue with the deadly seriousness that it deserves" (Ban Ki Moon, United Nations Secretary General, 2007). 16 Days of Action is a positive start to raise awareness but it is equally important to remember that gender inequality exists beyond these 16 days and that women need sustainable change.
---
Add comment

Comments will be edited (grammar, spelling and slang) and authorized at the discretion of Daily Mirror online. The website also has the right not to publish selected comments.

---