---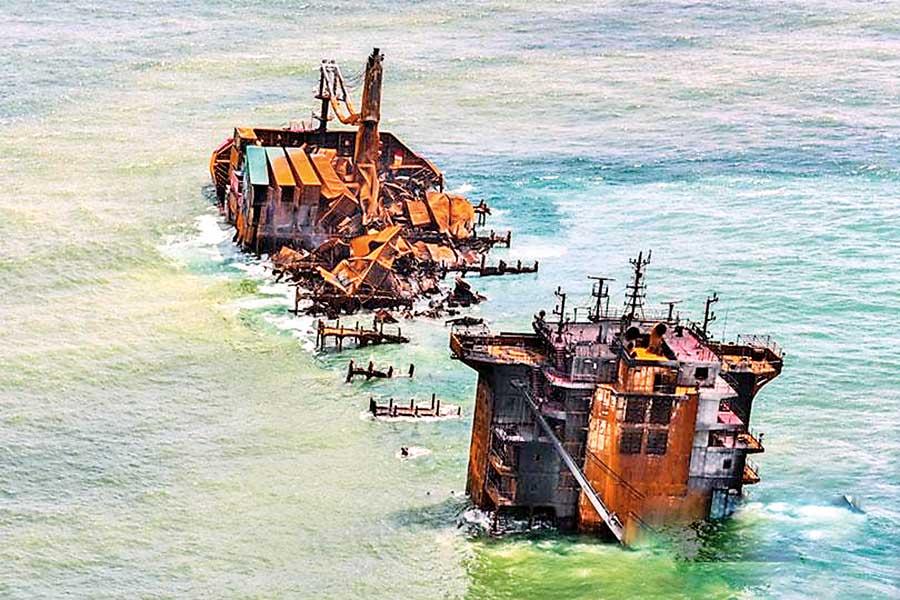 MV X-Press Pearl - Image courtesy SLAF
The recent burning and sinking of the X-press Pearl is a terrible catastrophe. Renaissance Sri Lanka comes to the rescue of more than 4,000 families in the severely affected Sri Lankan fishing communities.
The burning and sinking of a massive container ship, spilling vast quantities of toxic nitric acid and, non-biodegradable plastic pellets into the sea is the final blow to a country that may not have the strength to survive an unprecedented cumulation of tragedies, that is if no massive help is provided.

Indeed, Sri Lanka was a star tourism destination, but the Easter bomb attacks in April 2019 that killed more than 250 people, severely hit the country's international tourism industry. Early in 2020, the Covid-19 crisis brought that recovering tourism industry to a halt and 400 000 Sri Lankans lost their main source of income. The recent X-press Pearl incident, the country's worst-ever environmental disaster, adds to this tragic national situation. It has blocked a large area of the polluted coastal waters from any fishing activities, on an 80 km stretch. The ship's chemical cargo spillage has immensely added to the plight of this small country, with a possible oil spill looming at large.

Renaissance Sri Lanka will distribute kits composed of food and basic necessities to the estimated 4,000 fishing community families who are no longer able to fish and are therefore totally deprived of income, and also to all the other families dependent on the fishing industry. Around 28 other industries are indirectly hit: wholesale and retail vendors, seafood processing and export industries, fish storage and transport services. The once flourishing resort industry on this stretch is worse hit in addition to the pandemic restrictions.

Ashinsa Bopearachchi Cavalié, Paris-based President of Renaissance Sri Lanka, declared: We decided to launch a campaign to help the families hit by the pollution of fishing waters by the X-Press Pearl cargo ship."Neville Weerasinghe, co-founder, added: "Renaissance Sri Lanka will work with our numerous partners in Sri Lanka to distribute this aid efficiently and quickly.

What is needed now is an international wave of solidarity for Sri Lanka and the families that depend on fishing. Renaissance Sri Lanka stands by to mobilize donations and channel assistance fast.
Renaissance Sri Lanka is a French non-profit organisation, registered in France, on 31st December 2020, under the "Association loi 1901". It is a non-governmental, apolitical, non-denominational, non-profit, humanitarian organisation that wishes to support the Sri Lankan population and impulse ethical change in Sri Lanka, to improve the overall livelihood and happiness of the population, in harmony with the identity, culture and values of its Society.
www.renasl.org
Contact: Ashinsa Bopearachchi Cavalié, President & Executive Director; Phone: + 33 6 72 25 44 21;
Email: ashinsabc@renasl.org
Contact: Neville Uditha Weerasinghe, Co-founder of Renaissance Sri Lanka, Phone: +94772171205
Email: nevillew@renasl.org