---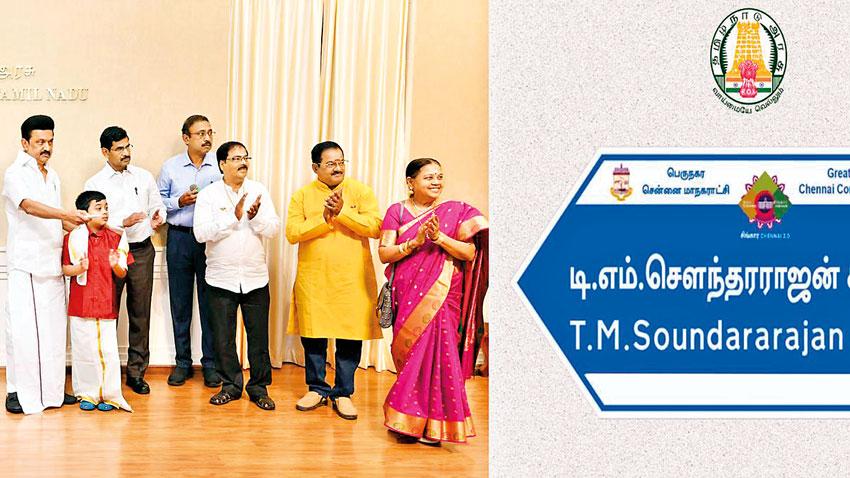 Tamil Nadu Chief Minister Stalin unveils the Street name board using a remote control unit. Pic courtesy, The Hindu
"Whether it was romantic melodies, lyrics loaded with political statements or philosophy, a simple folk tune or a classical raga-based song, TMS was unparalleled in rendering them. His high-pitched voice captured the majesty of the Tamil language, but TMS could also render duets that evoked an intensity of emotion beyond imagination."
By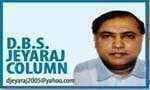 D.B.S.Jeyaraj
Muthuvel Karunanidhi Stalin (MK Stalin) the Chief Minister of Tamil Nadu State in India, unveiled the name board of a road with a new name on March 24 2023. The Municipal Administration of Tamil Nadu's capital city, Chennai had officially changed the name of the West Circular Road in Mandavelipakkam, ward number 126, Zone 9 as the T.M. Soundararajan Road (Saalai). T.M. Soundararajan known popularly as TMS, was a renowned playback singer in Tamil films for many decades
The date March 24 was picked for the official name change as it was the birth centenary of TM Soundararajan, born in 1923.

The singer who passed away in 2013 had been residing on this road at Mandaiveli since 1962.

Hence the West Circular Road was changed to TM Soundararajan Road in his honour. Chief Minister Stalin personally unveiled the new name board in a symbolic gesture.

TMS family members were present.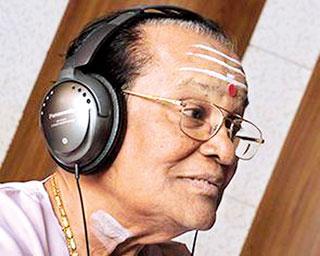 T.M. Soundararajan

Devoting the first article in each month to a film, film personality or film-related topic was a practice followed by this column in the past.

The articles were well received and widely appreciated by readers in general and film fans in particular. However, there was a break in this routine for some months now and several readers have written saying they missed the first week film article.

It is my intention therefore to resume this practice of publishing a 'Filmy Article' on the first Saturday of each month. As such this column focuses this time on my favourite Tamil playback singer T.M. Soundararajan or TMS.

Playback singers
As is well-known, an indispensable feature of Indian language films for long has been the song sequences. These songs are usually picturised on actors or actresses, who lip-synch them on screen. Sometimes, they are merely montage scenes with songs audible in the background.

It is common knowledge that the singing voices we hear belong to off-screen singers known generally as playback singers. The songs sung by these playback singers are usually pre-recorded for movies.

Fortunately for these playback singers, they are given credit in the film titles as well as the soundtrack albums. Film songs, therefore, are identified by the singer, who actually sings them and not the actor, who lip-synchs on screen. Tamil movie playback singers in India have gained much popularity and many, many fans over the years by their singing.

Thuguluva Meenatchi Iyengar Soundararajan known as TM Soundarajan and TMS was one such playback singer who dominated the Tamil film scene for several decades. In a singing career spanning more than six decades, TMS has sung more than ten thousand songs in over a thousand films.

Most of these songs were in the Tamil language. B. Kolappan writing an obituary for TMS in The Hindu stated as follows-

"Whether it was romantic melodies, lyrics loaded with political statements or philosophy, a simple folk tune or a classical raga-based song, TMS was unparalleled in rendering them. His high-pitched voice captured the majesty of the Tamil language, but TMS could also render duets that evoked an intensity of emotion beyond imagination."

Three salient aspects
T.M. Soundararajan's forte was his full-throated, high-octave singing. There are three salient aspects of his singing that I want to highlight in this article.

The first is his unique singing style of voice modulation and variation that blended well with the voices and expressions of the actors he was singing for.

The second was the manner in which he could emote meaningfully with the song in accordance with the film sequence and the mood of the character on screen. Whatever the type of song, TMS would 'act' it out through his voice.

The third was the impressive way in which he pronounced Tamil.

The film songs in those days were an integral part of the film and were often used by directors to narrate the story effectively. Unlike the present, songs were picturised fully in the films then. Except for rare instances, the songs were recorded before the scenes on which they are picturised were shot. The song sequences were part and parcel of the film. There were songs to denote all aspects or phases of life like birth, death, romance, marriage, heartbreak, separation, reunion, friendship, sorrow, joy, celebration, sibling affection, brother-sister bonds, motherly love, husband-wife relationship; there was a Tamil film song for every occasion and every mood in life.

TMS Ruled the Roost
Ordinary filmgoers began singing those numbers themselves and applying them in their lives. These songs became a part of everyday life itself. In an era where electronics had not invaded every facet of life, there were singsongs galore in many gatherings and Tamil film songs rendered by TMS ruled the roost on such occasions.
The making of a film song was a team effort. The director, lyricist and music composer would discuss among themselves the film sequence for which a song was required. Then appropriate playback singers were chosen. After particular songs were assigned for singing by TMS, the versatile singer would obtain details of the story, the sequence of the song in the film and the particular actor it would be picturized on.

Thereafter he would prepare himself to sing off-screen for the on-screen actors.

Through his unique style of voice modulation, the singing mode of TMS would perfectly suit the actors he lip-synched for likes of Sivaji Ganesan, M.G. Ramachandran, Ranjan, Udayakumar, S.S. Rajendran, Jaishankar, Ravichandran, Asokan, Gemini Ganesan, Muthuraman and Sivakumar.

His voice in the songs would sound just like those of the actors when you saw and heard the songs on screen. Thus most male actors wanted TMS to sing for them.

The feelings and emotions portrayed by the roles being acted in would be expressed soulfully by TMS through his singing. He would modulate his voice in accordance with those of the actors and emote passionately with the roles they played on screen.

The singing would harmonise with the personality of the actors and the particular roles portrayed by them on screen.

This was especially so in the case of leading yesteryear heroes M.G. Ramachandran, and Sivaji Ganesan.

Revelatory interview
TM Soundararajan was frequently asked by interviewers and fans about how he managed to accomplish this feat. TMS himself has supplied the answer very often. Among the answers given by TMS, the response he provided just a month before his demise was the most revelatory. Here is the relevant excerpt from an interview conducted by C. S. Venkiteswaran appearing in The Hindu in April 2013.

Q You are one of those rare singers who has sung for almost all the major stars in South Indian filmdom. But when you sang for each one of these actors, you adopted a different style and tone that suited the actor's voice and character.
TMS Answer: Yes, I closely follow the voice of the actors and their tonal modulations when I sing for them. For each actor, I sang in a voice that matched his voice, his persona and the character he played in that particular film. On some occasions I had to bring in a melancholic mood, in others, romantic, situations, tragedy, and comedy…….
Sometimes I had to make my voice sound masculine, sometimes very youthful or aged. I have done it all according to the situation and the actor. A film singer has to be sensitive to all these things; it's not just a matter of singing in front of a mic. In many instances, I literally used to 'act' while I sang many songs; many of the actors used to come and watch me sing to get a feel of my acting so that they could use it in front of the camera! I think playback singing involves the element of acting too. Most importantly, the actors admired my songs and had great faith in me. My songs helped to lend character to their roles, adding to their charm and intensity, the reason why great actors such as Sivaji and MGR insisted on my singing for them. Jayalalitha once said that it was my songs that brought her close to MGR."

Isaithamizh (Musical Tamil)
In addition to the voice modulation and emoting, the third distinguishing feature of Soundararajan's singing was the way in which he pronounced Tamil.

He had a distinctive style, diction, tone and tenor. He sang in Tamil on screen the way songs in the mellifluous, vibrant language should be sung. Generations of Tamils learnt to appreciate the beauty, sweetness and power of the Tamil language because of the manner in which TMS made Isaithamizh (Musical Tamil) a reality. Many Tamils loved their language more due to TMS.

Saurashtrian Brahmin
The pleasant irony in this was that the Madurai-born TM Soundararajan was ethnically not a Tamil. He was of Saurashtrian Brahmin stock. Historically Saurashtra was a region in present-day Gujerat State.

Soundrararajan's ancestors were among the Saurashtrians, who had relocated to Tamil-speaking regions in the south due to continuous Mogul invasions.

A substantial number of Saurashtrians settled down in Madurai. They became very fluent in Tamil and engaged in agriculture, weaving and commerce.

Soundararajan's father was a Saurashtra Brahmin priest in a small Madurai Vaishnavaite temple. He named his second son Soundararajan after the deity Soundararajap Perumaal at the famous Kallalaghar Temple in Alaghar Kovil, Madurai.

However, despite his Vaishnavaite roots, Soundararajan became an ardent devotee of Lord Murugan in later life.
After schooling for some years at the Sourashtra High School in Madurai, TMS dropped out and learnt Carnatic music from Ariyakkudi Rajamani Aiyer. He began performing at classical music concerts in 1945. In 1946, he got his first break in playback singing from the music composer SM Subbiah Naidu.

TMS sang four songs in the film Krishna Vijayam. The film however was released only in 1950.

MGR and Sivaji
The turning point in Soundararajan's life was when he began singing for lead actors MG Ramachandran and Sivaji Ganesan in the mid-fifties of the last century.

Thereafter he became the singing voice of MGR and Sivaji for decades. The songs he rendered for them became very popular. However, TMS sang for many other actors too from the swashbuckling Ranjan to ace comedian Nagesh.

TM Soundararajan has worked with many music composers over the years. Among these were Subbiah Naidu, G. Ramanathan, TG Lingappah, T.R. Pappa, K.V. Mahadevan, M.S. Visvanathan, T.K. Ramamoorthy and Veda.

TMS has gone on record expressing gratitude to Ramanathan for teaching him the nuances of playback singing. However, the greatest number of songs were sung by TMS for Mahadevan and the Visvanathan- Ramamoorthy duo.

TMS has sung many duets with male and female singers. The duets he sang with Seergali Govindarajan and P.B. Sreenivas were all chartbusters. He was associated in duets with songstresses like Bhanumathy, Leela, Jikki, Jamuna Rani, Susheela, Janaki and L.R. Easwary.

P. Susheela
It is widely accepted that his best vocal partner was P. Susheela. The TMS-Susheela duo dominated the Tamil film song realm in the sixties and seventies. They were the uncrowned king and queen of Tamil playback singers in terms of popularity.

TMS and Susheela have sung 732 songs together. The last duet they sang was in 2010 for Vaalibam Suttrum Ulagham. He was 87 and she was 75 at that time.

TM Soundararajan has also acted in four films in lead roles. They were Pattinathaar, Arunagirinathar, Kaviraja Kaalamegam and Kallum Kaniyaagum, which he co-produced with fellow Saurashtrian playback singer A.L. Raghavan.

TMS has made several cameo appearances in several films. The most notable was in Theivam where he along with Seergali Govindararajan appeared on screen as themselves and sang Thiruchendhoorin Kadaloarathil together. TMS also composed music for the film Palappareetchai.

Devotional songs
Soundararajan has also sung hundreds of devotional songs over radio and as records and albums. Most of these were in praise of Lord Murugan but there were others too.

TMS has also toured the world singing to audiences in Eastern and Western countries. He has won numerous awards and accolades.

Soundararajan married Sumithra in 1946. They had three daughters and three sons, one of whom died at a young age. The other two sons are good singers too with voices similar to their father's.
TMS passed away on May 25, 2013, at the age of 90.