---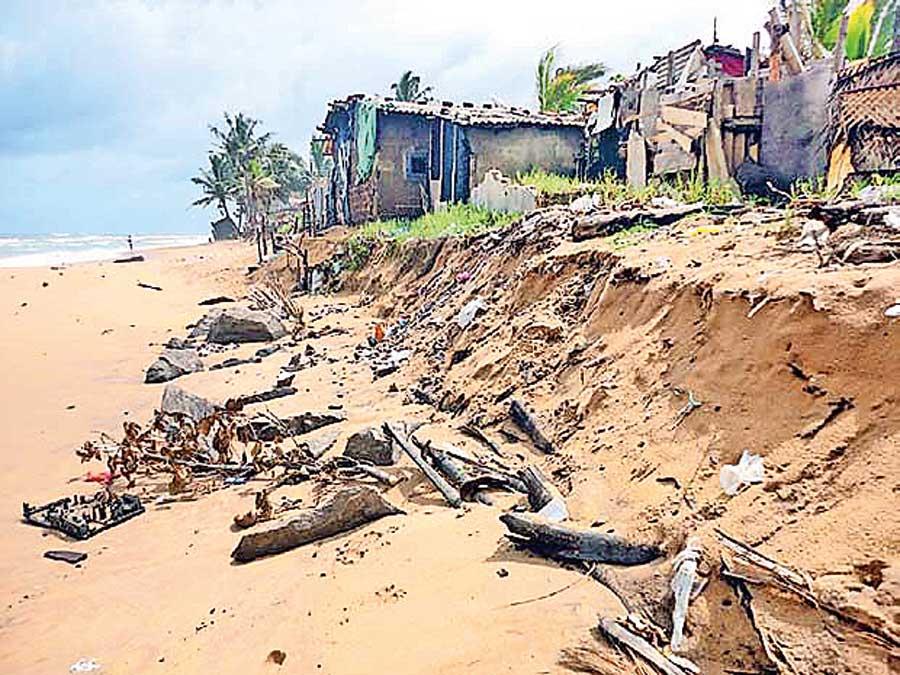 Coastal erosion in Dehiwela and Ratmalana
Sri Lanka's pristine beaches attract many a tourists all year round resulting in several coastal areas being

transformed into popular tourist attractions. But without managing coastal and marine resources such as the coral reefs, marine species and marine environments; the sustainability of these venues will be short-lived. That apart, global warming and similar impacts of climate change would have a direct impact on coastal and marine environments. In a webinar organised by the Institute of Environmental Professionals - Sri Lanka (IEPSL) two experts on marine ecology shed light on the topic - 'Sustainable Development by Managing Coastal and Marine Resources Effectively'. IEPSL is the umbrella organisation of environmental professionals in the country and was established in 2006 on a Cabinet decision.
How climate change affects coastal and marine environments
Busting a myth on sea-level rise, Roshanka Ranasinghe, Professor of Climate Change Impacts and Coastal Risk at the Department of Water Science and Engineering, UNESCO-IHE and Adviser (Strategic Modelling) at Deltares in the Netherlands, said people do not have to wait till 2100 for sea level rise. "It is said that by 2100 the sea level would rise by one metre. But if we take the worst case scenario of Reference Concentration Pathway (RCP) 8.5, by 2050 we can expect a sea level rise of half a metre. If we take Sri Lanka, the tidal amplitude could be at a range of 0.6 meters. The tide increases to more than 0.8 meters especially in the southwest coast. The mean water level rise is 20% of the main height and therefore we can expect the water level to be higher than one metre, twice a day than what it is now. When you travel along Galle Road there are indications of elevation of land which is one metre above sea level as such all these areas will be flooded twice a day in another 30 years. Therefore we do not have to wait till 2100 for a flooding because it is just 30 Christmases away!"

Some of the main environmental drivers in coastal and marine environments include mean water level rise, tides,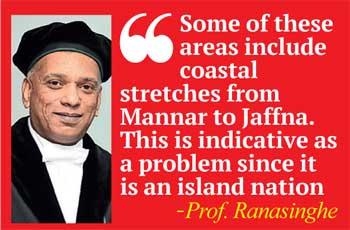 mean waves, extreme waves, storm surge, river inflow and wind. Prof. Ranasinghe observed that except for tides, all other drivers will significantly change because of climate change. Shedding light on global projections of extreme offshore wave heights he said that extreme wave height is projected to decrease in places such as Western USA and South East Australia but it is expected to rise in a majority of places around the world.
"In Sri Lanka extreme wave height is projected to increase up to 5% along the coastal stretch from Mannar to Trincomalee. It does not seem like a big thing to worry about but the frequency of events could increase a lot. In the past 15-20 years there were only one or two rough-sea warnings but an event that happened once or twice a year is now happening once a month," he said

Extreme sea level is calculated by adding sea level rise, tide, storm-surge and wave-setup. At present, a 100 year ESL event is less than 0.5 meters for Sri Lanka. But the value of assets at risk of coastal flooding is said to spike to a 64% increase (USD 70 billion) in 2030 than the value compared to that in year 2000 (USD 42.6 billion). Touching on coastal setback lines (a line along the coast, seaward of which certain development activities are prohibited or restricted) Prof. Ranasinghe spoke about a study done along the East Coast given its high vulnerability to coastal erosion. "There has been rapid development along the East Coast due to cessation of the 30-year civil war. The study initiated by the Coast Conservation Department looked at the potential for establishing informed setback lines at Greenfield locations (an area consisting of unused agricultural land that is developed to accommodate new industrial premises) along the East Coast to aid in future spatial planning," he said.
"Some of the main environmental drivers in coastal and marine environments include mean water level rise, tides, mean waves, extreme waves, storm surge, river inflow and wind"
Prof. Ranasinghe said according to first-pass estimates of future Beach width in Sri Lanka, many areas will have no beaches by 2100. "Some of these areas include coastal stretches from Mannar to Jaffna. This is indicative as a problem since it is an island nation," he said.
Another study has identified erosion hotspots along the coastal belt from Mt. Lavinia to Trincomalee. A hotspot is a location where net Longshore Sediment Transport (LST) is equal or more than 50,000 cubic meters a year. Prof. Ranasinghe said already there were around nine to ten hotspots from Kuchchaveli to Karaitivu.

From erosion hotspots he then touched base on the importance of shifting to wind power. Taking an example from the Netherlands, he added that wind power is expected to provide 40% of the country's electricity demand by 2030. He suggested that Sri Lanka could conduct detailed and reliable assessments on offshore wind power potential in the Exclusive Economic Zone of Sri Lanka using high resolution hind cast and down-scaled climate models. "Offshore wind power hotspots considering the lifespan of installation and climate change effects could be identified and submissions for Design-Build Operations or Design-Only projects could be invited."
SL should focus on having an ocean-based economy
Although the sea has been a largely unexplored resource, many anthropogenic effects have had a detrimental impact on marine ecosystems. Shedding light on the importance of promoting a Blue-Green economy, Dr. Terney Pradeep Kumara, General Manager at Marine Environmental Protection Authority said Sri Lanka should focus on having an ocean-based economy. The ocean is home to many aquatic species such as invertebrates, worms, sea anemones, coral reefs and so on. Corals and seaweeds for example could be used as bio products with anti cancer, antiviral and antibiotic properties.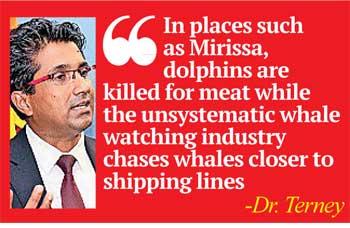 Some of the non-living resources include oil deposits, methane hydrates, natural gasses and mineral resources. Various types of ornamental fish, food fish, sharks, dolphins and whales could also be found. But unsustainable fishing methods such as dynamiting and use of prohibited fishing gears have posed a threat to aquatic life."
"Dynamiting causes irreversible damage to coral reefs but there's potential to use coral reefs as tourist destinations. Section 2b of the Fishing Operations Regulations 1996 Gazette Extraordinaire Nos. 948/25 and 1996/11/07 state that push-net fishing operations, harpooning for marine mammals, moxi net fishing operations and Gill net or trammel net fishing operations on coral reefs or rocks are prohibited. So people really don't know the importance of protecting these resources. In places such as Mirissa, dolphins are killed for meat while the unsystematic whale watching industry chases whales closer to shipping lines. Therefore ships pass closer to whales and are often killed in accidents. On the other hand Sri Lanka is home to five out of seven turtle species found in the world but their eggs are often collected and sold which is an illegal practice. There are types of shark species, namely the thresher shark, oceanic whitetip shark and the whale shark which are protected. But they are killed for meat and the shark fin industry. Another fish locally known as Thambuwa (Cephalopholis sonnerati) are found in large numbers at fish markets," Dr. Kumara said,
He said when it came to legal protection the Flora and Fauna Protection Ordinance clearly mentions activities that are allowed and prohibited in protected areas. "In Sri Lanka there are six Marine National Parks, nine Marine Sanctuaries, one Marine Nature Reserve and 11 Marine Associated Protected Areas. Apart from that there are four Coral Reef Marine Protected Areas and three Fisheries Management Areas under the Fisheries Act. But today there's a threat to tourism due to coastal pollution. Ship based pollution takes place in the form of oil spills and there were incidents such as whale stranding. Coral reefs are being bleached and are depleting. Therefore it's important to manage the resources that we have by engaging coastal communities and the public," Dr. Kumara said.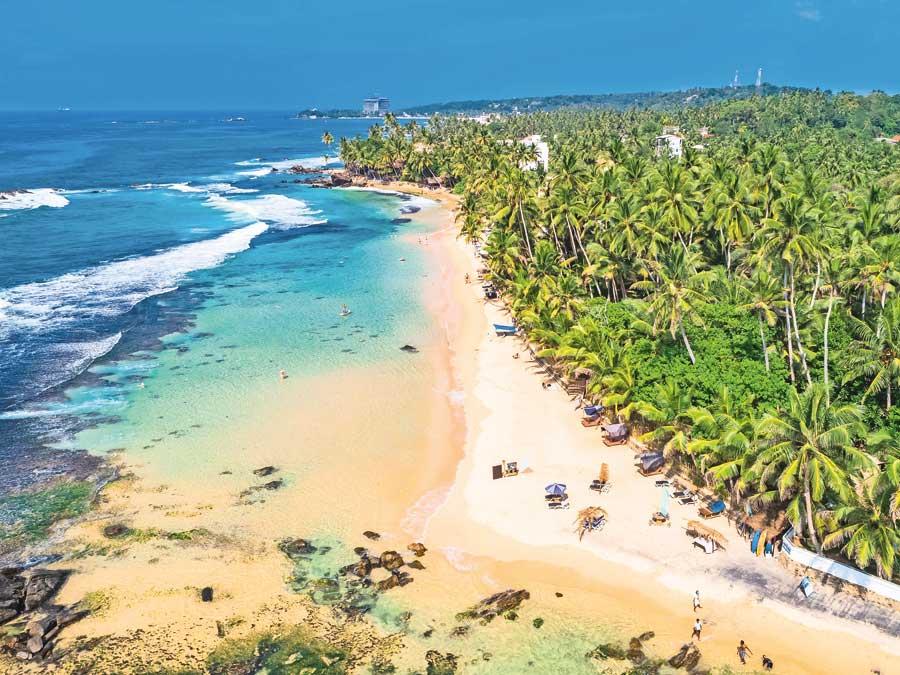 Sri Lanka blessed with an abundance of pristine beaches