---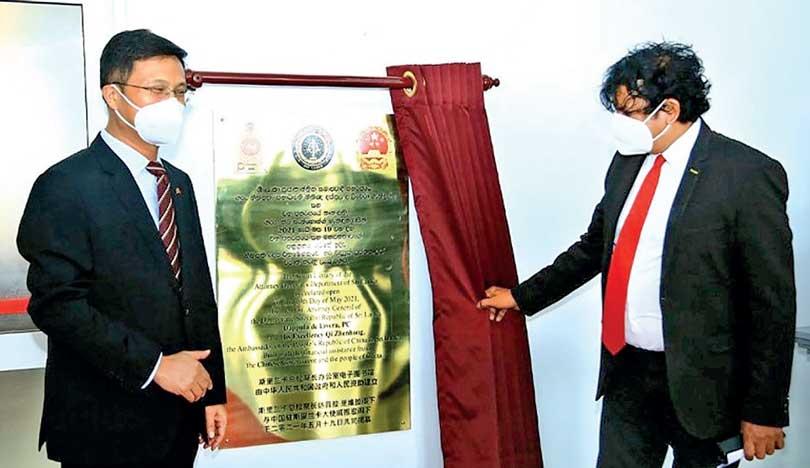 Attorney General Dappula de Livera unveils a plaque that was scripted in Sinhala, English and the Chinese language
State Minister Vidura Wickramanayka said that omitting Tamil in the plaque violated the official language policy in Sri Lanka
The incident came under much criticism in the social media platform and the plaque was removed later
"Tamil text is missing, that's alright! Soon Sinhala will be missing too. Hope Sri Lankans wake up at least then."

The removal of a plaque made to declare open a Chinese gifted Smart Library of Attorney General's (AG) Department has come to the limelight. According to reports the plaque did not contain the words in Tamil, instead Mandarin had been included. Controversy revolved around a picture circulating of Attorney General Dappula de Livera unveiling a plaque that was scripted in Sinhala, English and the Chinese language. China's Ambassador was also present. The incident came under much criticism in the social media platform and the plaque was removed later. In light of these events the Daily mirror spoke to relevant authorities, politicians and activists regarding the incident.

When questioned the AG's coordinating officer Nishara Jayaratne said that AG's department did not wish to comment regarding the issue, adding that a statement had been published regarding the removal of the plaque. She did not want to comment further on the issue.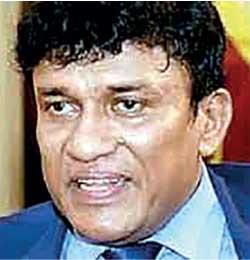 Concerns over omittance

Tamil Progressive Alliance Leader and Opposition parliamentarian Mano Ganesan stated in a tweet, the Chinese are "violating language law". He said the failure to include the Tamil words was a violation of the official language act. He raised the question as to who really was responsible for this. He tweeted, " It appears Chinese learn to ignore Tamil from our government since GoSL's usage of Official Language Tamil is no better." He said, "China is not our enemy. Respect us. We respect you. The Chinese Ambassador in Colombo should keep in mind that Classical Tamil came to China in the 5th century, taught the arts and was loved by the Chinese people."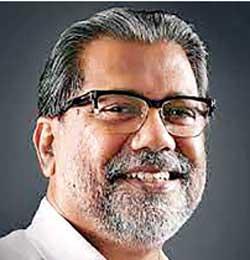 'An inquiry in this regard has to be carried out'- Minister Vidura Wickremanayake

Commenting on the issue, State Minister of National Heritage, Performing Arts and Rural Arts Promotion, Vidura Wickramanayka said that omitting Tamil in the plaque violated the official language policy in Sri Lanka. "As a country we should not allow these type of things to happen. We talk about co-existence. An inquiry in this regard has to be carried out. This language policy should apply alike throughout the country. But there are instances in the North and the East where Official language policy is ignored omitting Sinhala in some the areas. We need to rectify this when talking about language policy in relation to co-existence. We sometimes find plaques written only in Tamil," he said.

In response to a journalist who questioned the Chinese Embassy in Sri Lanka, the embassy responded, "It's an internal E-Library in the AG's Department, funded by the Government and People of China. Chinese language is displayed as a kind gesture towards China, which is highly appreciated."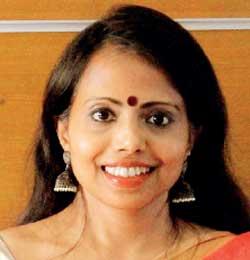 Human rights lawyer Ambika Satkunanathan said in a tweet that most surprising aspect about the outrage regarding plaque at AGD with no Tamil inscription was that people were so surprised by it. " Disregarding language rights is normalised and entrenched in public institutions," she said.

"This is unacceptable that this has happened. This indicates a certain mindset where it comes naturally to some government officials and to private sector to forget that Tamil is an official language," said Human Rights Activist Ruki Fernando.

He said It was commendable that the AG's Department had acknowledged it and had taken steps to change it. "That is a positive aspect. It is not something we see often. The fact that it happened is problematic and it is important to check why this is happening. This has happened long before Chinese language has also started appearing on our boards," he said.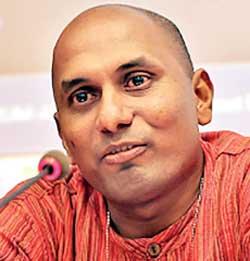 Responding to the question whether there were phrases in Sinhalese omitted in boards in areas which comprised vast majority of Tamil speaking communities, like in the North and the East, Mr.Fernando said, "I have not noticed in the north and the East where national languages are omitted.With regard to court system, there are certain lower courts and magistrate courts that are functioning either in Sinhalese or Tamil based on the majority of the population. He said in that plaque case English and Chinese were elevated above Tamil and Sinhalese This requires a certain degree of sensitivity as to see why really this has happened. He said negligence is involved in omitting the Tamil language, which is a serious matter.

According to media reports, this was the second instance of the Chinese mission responding to tweets flagging Mandarin text in sign boards. Last week, Batticaloa Parliamentarian from Tamil National Alliance (TNA) Shanakiyan Rasamanickam shared on Twitter an image of a sign board of the 'Central Park' coming up at the China-backed Colombo Port City, with text in Sinhala, English and Mandarin, and said: "Tamil text is missing, that's alright! Soon Sinhala will be missing too. Hope Sri Lankans wake up at least then."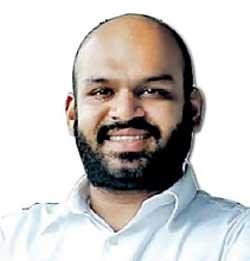 The Embassy said in a tweet on the same day: "We noticed an interim sign in a JV building site not abiding by trilingual rules. Request raised. We respect all three official languages in Sri Lanka, and urge China companies to follow," sharing images of other Chinese-built structures that also included Tamil text in their name boards.
Responding, Rasamanickam said "the cat is really out of the bag.

The Chinese government decides what goes on name boards in SL. This really indicates how little control the SL Govt. has over the situation," he tweeted. The MP also vehemently opposed the recently passed law governing the Port City and said the country had become Chi-Lanka".