---

Creating a film on the bane of gang culture within the Sri Lankan community in London
This film was the first attempt in my filmmaking career. I guess this is the reason why I am here directing music videos and episodes. The entire experience was new and we were learning everyday.

Living his dream of becoming a filmmaker, British born Sanmugan Satheesan also known as Saanmuu has released his latest film The Jungle. Dabbling in filmmaking while studying for a Law degree, Sanmugan took on the challenge of making this film soon after he finished his studies. With his brother backing him, they worked and raised their own money to fund the film. Sanmugan recruited people from his community of friends and family to work with him on the film in various capacities. He started production in September and completed the film in August 2023. The film had its premiere at the British Film Institute over the weekend.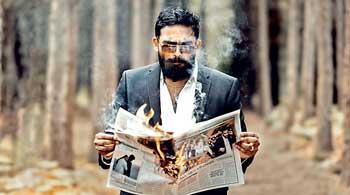 Q:
What sparked your interest in cinematography?
I grew up constantly watching movies. I love telling stories and at the end of high school I became passionate about making a film. I had no clue where to start but with the help of my brothers and my friends, I was able to experiment in filmmaking for the first time in 2015.
Q:
How did you get into film making?
In 2015 I made my first film titled, 'Born Sinner'. We screened this movie in a cinema in London. I realised the flaws in the movie but was still motivated to go ahead and do a sequel to the film. In 2016, we begun production for another film titled, 'Born 2 Sin'. This film didn't really take off due to budget restrictions and non availability of cast and crew members. We stopped production as the demands of university took over. In 2018, I had the chance to revisit filmmaking once again and we went into production where we made a short film titled, 'Ravan'.
In 2020 I picked up photography and started to develop my craft. Soon I was able to gain a couple of shoots by shadowing established photographers and filmmakers. One thing led to another and by 2021, I had the opportunity to direct one of the biggest Tamil Independent artistes, Sahi Siva. I worked on his music video titled, 'Uyir Thedal' and since then there was no looking back. I had the privilege of working on back to back projects with Sahi Siva. I later went on to working with other independent artistes too. It was only in 2022, when I realised I want to indulge in Direction once again. This is how 'The Jungle' happened.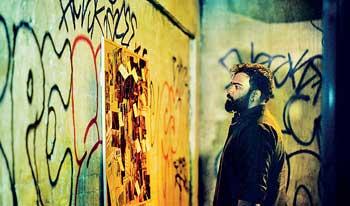 Q:
Have you any formal training in film making?
I have had no formal training in filmmaking. Everything has been trial and error. I have failed multiples times in the past to get my vision right, but I feel that we have finally done justice with 'The Jungle'.
Q:
In 2016 you released your first film "Born Sinner". Can you tell us about that film?
This film was the first attempt in my filmmaking career. I guess this is the reason why I am here directing music videos and episodes. The entire experience was new and we were learning everyday. No one on the sets of 'Born Sinner' had prior experience in filmmaking. My best friend, Bawar Jalal, who now is also the cinematographer of 'The Jungle', happened to have a camera which I loved experimenting with. I knew I had a passion for visual arts as I would always find myself researching about film in my free time. Bawar and I, decided to take a leap of faith and jumped into the deep end by doing a full feature film which was 'Born Sinner'. Besides it being very basic, it is essentially the project that kickstarted everything for us.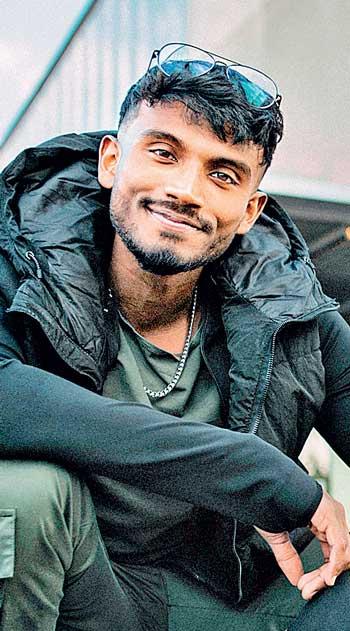 Q:
You have also filmed music videos. Who are the independent artistes in the UK you have worked with?
I have worked with the following artistes: Sahi Siva, MC Sai, Mr Sarchai, Naveena and Sujan.
Q:
Your latest film is called The Jungle. What is it about?
Set in the heart of London. This story focuses on the lives of ethnic minorities who partake in criminalistic activities amongst gangs to gain power and authority. Hierarchy is everything in this story…in order to be the King you must go above and beyond what your role requires.
Q:
How much of the film is based on the Sri Lankan community in the UK?
This entire series looks into the lives of the Sri Lankan community who are based in the UK. The story is based around Tamil individuals in the UK, so it is natural to touch on these things.
Q:
What social messages do you want the film to convey to the audience?
I want the audience to understand the negative consequences of affiliating yourselves amongst gangs. Often, a situation results in an individual being recruited into gangs, and the majority of the time, once you are in, it is very difficult to get out. In addition, I would like to showcase how affiliation leads to irreversible changes in family dynamics too.
Q:
How did you manage to raise funding to complete the project
I had no funding or sponsors on this project. It was a dream of my brother and I to complete this project independently. My brother and I drew up funds ourselves from working a 9-5 job and this is how we financed this project.
Q:
Tell us more about your project SCU – Saanmuu Cinematic Universe.
The concept of the SCU is simple. So I work heavily on music videos with various artistes and my passion has always been to direct a film. Therefore, moving forward, the idea that I had was to create music videos and short films and hopefully feature films that directly connect with one another.
Q:
Would you wish your film to be screened in Sri Lanka?
Absolutely as Sri Lanka is the motherland. This is where my parents were born and it would be a huge blessing if we had the chance to screen our film over there for people to see and hopefully for filmmakers to see as well.
Q:
What other projects do you have in the pipeline?
As of now, my focus is on kickstarting the next episodes of the SCU. Our immediate plan after this is to work with an artiste, Mr Sarchai on his next release track titled 'Chinna Podiyan'.
Q:
Are you inspired by any Sri Lankan film makers?
I am inspired by all filmmakers. I believe you can pick up a good trait from anyone, especially those who are in the same field as me. Over time, from working with numerous filmmakers, I have learnt so many different skills.