---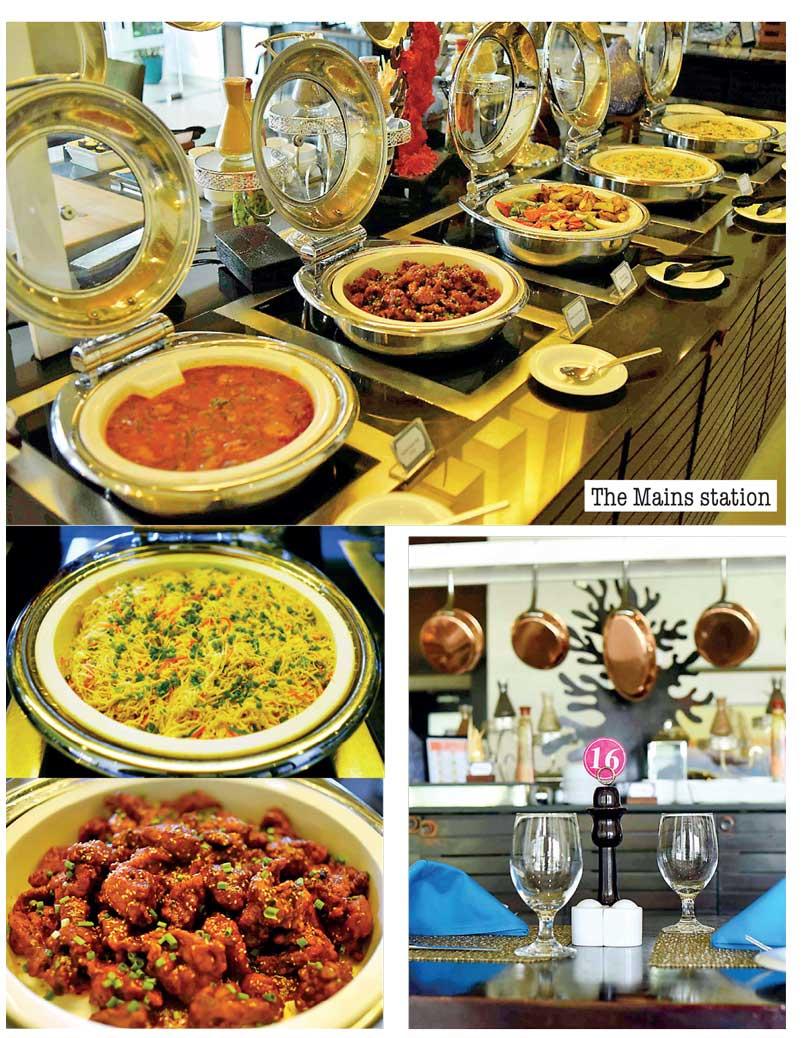 The Business Lunch buffet allows busy professionals to enjoy a quick filling meal and get back to work. The Buffet is available from Monday to Friday 12.30-3.00 PM.
text Nuzla Rizkiya


Imagine yourself arriving at the BIA. You happen to have a long flight and now you just want to relax at the nearest hotel. One good option or the only international option you can take is the Vivanta Hotel Colombo Airport Garden located just 5 minutes away.
Unlike the general landscape, the entrance to the hotel building is designed just like a flight gate beckoning travellers straight from the airport.
Incorporated by Tata Group in India, Vivanta is a sophisticated hotel brand owned by the Indian Hotels Company Limited (IHCL). The company also brings together a range of world-renowned brands and businesses which includes Taj – the iconic brand ranked as the World's Strongest Hotel Brand.
PHOTOS Nisal Baduge
Mynt is a signature all-day-diner of the Vivanta Hotels serving both local and international favourites. A combination of Indian, Sri Lankan, Chinese and Thai cuisine is served at the restaurant while an ala carte menu and a fully-fledged international breakfast / dinner buffet is available throughout the week. The Business Lunch Buffet which we were invited to, is available from Monday to Friday 12.30-3.00 PM.
Warmly welcomed by Tania Tissera, the hotel's Directress of Sales, we were first served with a Fresh Fruit Juice to quench our mid-noon beverage thirst at the hotel's trademark beverage outlet 'Swirl'. The landscape of the hotel is designed to be very spacious with a touch of natural interior decorating to it. Visitors reaching Mynt will first encounter 'Swirl'-the coffee bar of the hotel at the entrance, then 'Wink'-the hotel's exclusive bar and a shopping arcade where a few leading shopping brands, collectibles and souvenirs are available.

The layout at Mynt

In coordination with the prominent interior theme of the hotel, the layout at Mynt too was very spacious and calm with a peaceful, natural vibe flowing through. The restaurant is equipped with a billiards table, indoor and outdoor seating arrangements, private dining area, a bar, a view of the pool and very uniquely, an access to a children's park area which, Tania describes, allows parents to have a relaxed hearty meal while having a watchful eye on their toddler. The restaurant is capable of hosting 160 diners in one seating and holds a "Happy Hours" scheme with a DJ, from Tuesday to Sunday from 5.00-PM to 7.00 PM, for diners who want to enjoy an early sundown. The restaurant also arranges a special BBQ every Saturday night.
The Business Lunch Buffet
Priced at 4000 LKR nett, the Business Lunch buffet is precise in its range allowing busy professionals to enjoy a quick filling meal and get back to work. However, as per the Food and Beverage Manager Saranga Pathirana, the overall cuisine range covers Sri Lankan, Indian, Chinese and Thai cuisines with an additional action station allowing guests to customize their meals and interact with the chefs.
The Business Lunch Buffet offers 2 varieties of soup, one vegetarian and the other non-veg. Since we visited the restaurant on a Wednesday, the soups offered were Seafood Noodle and the Tomato Shorba. While I refrained from trying the Seafood Noodle Soup, I found the Tomato Shorba pleasantly thick with a warming curry flavour and aroma to it.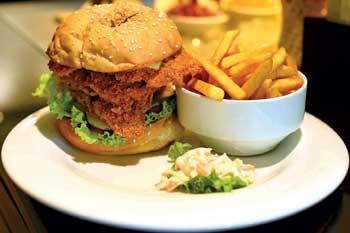 The salad station of the buffet offers one variety of a Cheese Plate, 2 varieties of Pickles, sandwiches, 3 varieties of salads, 2 varieties of dressings and a small range of sliced vegetables for diners to customize their own salad.
We tried the Chicken, Celery and Sweet Corn Salad served with Mustard Mayo and found the dressing quite generous with chicken and chunks of veggies. The Asian Slaw which I tried with the Ranch Dressing proved to be a great combo!
Six main dishes were offered at
the buffet.
Cashew & Green Pea Pilaf, Chow Mein, General Tsos's Chicken, South Indian Fish Curry, Slow Roasted Loin of Pork with Mustard Jus & Sundried Tomato Salsa, Wok Fried Chinese Greens and Herb Roast Potato Wedges. The main dishes were complemented with condiments of Papadam, Malay Pickle and Pineapple Pickle.
We tried the Cashew & Green Pea Pilaf with Tso's Chicken, South Indian Fish Curry and the Malay Pickle. The Pilaf rice was fresh and aromatic, while the fish was well-cooked and spiced. The chicken was not too tender and its sauce not too strong thereby doing justice to its American roots. The Malay Pickle managed to intrigue me to this day as it has me still wondering what ingredient it possibly contained that brought it so close to my mother's pickled onion recipe despite containing no onions.
Since the overview Tania gave us at the beginning of our visit, I was glued to the concept of home-made ice-cream the buffet offered. While the station offered 3 different desserts, I saved my taste buds for the ice-cream and found no disappointment there! Chef Noel explained to us that the sweet dishes are made fully in- house using local fruits, no preservatives and with a tad bit of extra cream. We tried the home-made Blueberry Ice-cream, Chili with Pineapple Ice-cream (Chili pieces served with poached pineapple) and the home-made Dates Ice-cream. As explained the dishes were extra creamy, not too sweet and tasted natural. Certainly, worth a try!
Overall, we could conclude that our visit to Vivanta Colombo was certainly worth a visit. Add this to your list of places to check out.