---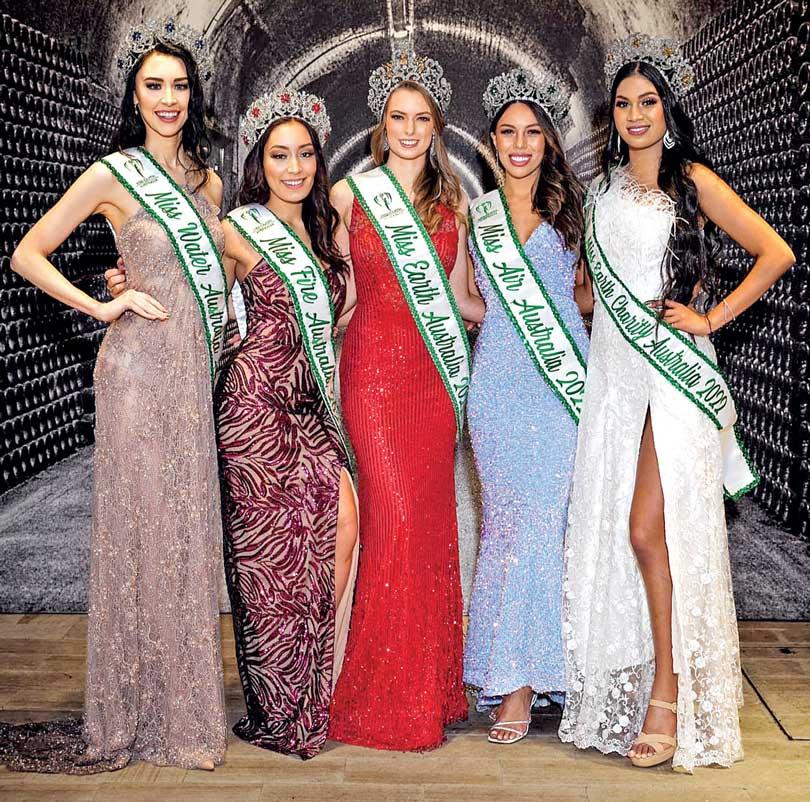 "My project 'Strive for Sustainability' started at the beginning of the state pageant. This project focuses on how we can be sustainable in our daily lives through the simple activities we do."

Sri Lankan born Himaya Wijayaweera recently won one of the 5 national titles in the Miss Earth Australia National competition - Miss Earth Australia - Charity. Her love for modelling and pageantry began as a way to express herself and work in collaboration with other designers and brands. In an interview with the Daily Mirror Life, Himaya shares her experiences and challenges she faced during her pageantry journey. She also discusses the controversy surrounding pageants and why she believes they can be a creative way to advocate for social and environmental concerns. She also shares her advice to those participating in pageants and talks about her pageantry journey, including winning Miss Teen Sri Lanka Australia and Miss Earth Australia - Charity.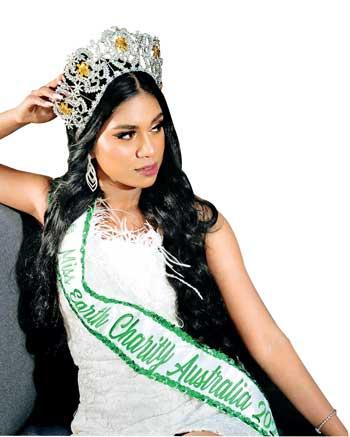 Q

As of late, pageants are mired in controversy and people are questioning why pageants still exist. How would you respond to this?
The pageant I involved myself in focused on a specific goal about something bigger than ourselves. Miss Earth Australia focused on raising awareness by advocating for our environmental issues. There is a lot of controversy due to the idea of judging women through their external features. However, I believe pageants have moved away from these aspects and focus more on the characteristics of people and their capabilities. I believe our generation has become more open-minded, creating a change in the way that pageants can be utilized such as giving a participant a platform to speak upon. Pageants based on beauty are not necessary, they can be detrimental to people's mental health. However, for raising advocates to voice our social and environmental concerns, pageants are a creative way of expression.
Q

Miss Teen Sri Lanka Australia was your first-ever pageant and you also won the title?
Kicking off my pageant journey back in 2018, I was approached by organizers of the Miss Sri Lanka pageant in Melbourne who recognised me for my height to apply to compete in the pageant they had coming up. I had not thought about competing in pageants until my mum told me how she won many titles back in her day which inspired me to at least have a go. With hard work, I won my first-ever title after competing for the first time as Miss Teen Sri Lanka Australia at the age of 16.
I remember the adrenaline being centre stage, talking about social issues and the support I received from my family and friends which felt rewarding.
Q

More recently, you competed in the Miss Earth Australia National competition and became Miss Earth Australia - Charity?
I took a break after my pageant in 2018 to focus on getting into university and completing my studies. In July 2022, I was approached by Isha Kulatunge from Isha's Beauty Salon Dandenong to try for this year's pageant. Due to the pageant being focused on the environment, I felt a great passion to compete due to witnessing the neglect by people towards our environmental emergencies. As a student nurse back in Melbourne, I have been exposed to the massive amounts of waste produced by our healthcare systems on a daily basis. Therefore, I embarked on a journey to help find alternatives such as the transition to electronic documentation and reminders to minimize our wastage. I decided to apply to compete as I wanted a platform to express my opinions.
First, I won the state title as Miss Earth Victoria. This allowed me to be the Victorian representative in the national pageant. The national pageant had 23 contestants varying from across all parts of the nation. It was a six-day pageant boot camp held in New South Wales.
We undertook many activities such as showcasing talent, photoshoots, closed-door interviews and questionnaires. The six days allowed me to get to know other contestants and build knowledge on how to be eco-friendly. On the final day, I ended up winning one of the five national titles and bringing Victoria home a crown. Alongside the national title, I won the People's Choice award and the Green Achievers award.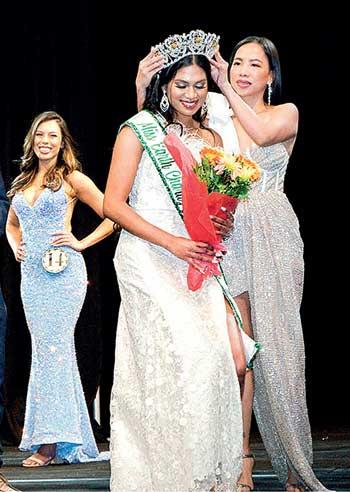 Q

As Miss Earth Australia - Charity, what are some projects you are embarking on?
I want to promote Sri Lanka and engage an audience to increase our tourism. Due to the state of the nation, I have started a small goal to convince viewers of my social platform to find a desire to visit Sri Lanka.
Many of Australia's hospitals have attempted to implement electronic solutions for documentation. However, firsthand exposure to the build-up of paper wastage in hospitals that do not have the funding to convert illustrated the urgency of the waste production emergency. Thus, I am embarking on researching to find an alternative to electronic documentation, alongside finding a solution to donate funds to hospitals in need.
My project 'Strive for Sustainability' started at the beginning of the state pageant. This project focuses on how we can be sustainable in our daily lives through the simple activities we do. Expressive and constant messages allow everyone to be targeted to do the right thing by the environment rather than focusing the responsibility on a small cohort of people. This project demonstrated how to upcycle clothing for new textiles, partner with sustainable brands and choose eco-friendly strategies.
Finally, I am working alongside principals in Melbourne to talk to children about the ways they, too, can be sustainable. This is a valuable project as children are our future generation. Therefore, starting to send the messages assists to foster and educate children to develop into more considerate adults in the future. Furthermore, it allows the continuation of messages to be passed down throughout generations.
Q

You hosted your own charity event - a high tea 'Shades of Green,' to raise funds for charities under the umbrella of Miss Earth. How will the proceeds from the event be utilised?
The entire event was organized from scratch by my mother Sharline Wijayaweera and my father Jayanath Wijayaweera and I to be hosted as a 'High Tea' Charity event. The concept of the event was to illustrate sustainable practices when hosting events. The location was the Berwick Botanic Garden, hosted on a hill overlooking the water to allow the attendees to be in awe in and appreciation of the beauty of our mother earth. We used reusable items and recycled materials for utensils, minimised wastage by making all our food items in bulk and the menu consisted of no meat items or processed foods.
The donations were collected from the entrance tickets purchased by attendees. The 'Shades of Green High Tea' was a huge success and allowed me a moment to really appreciate the company of everyone who truly supported me. The proceeds were donated to the Miss Earth Organisations - Star Production to be put forward to multiple charities under the umbrella of Miss Earth such as wildlife conservation and tree planting projects to name a few.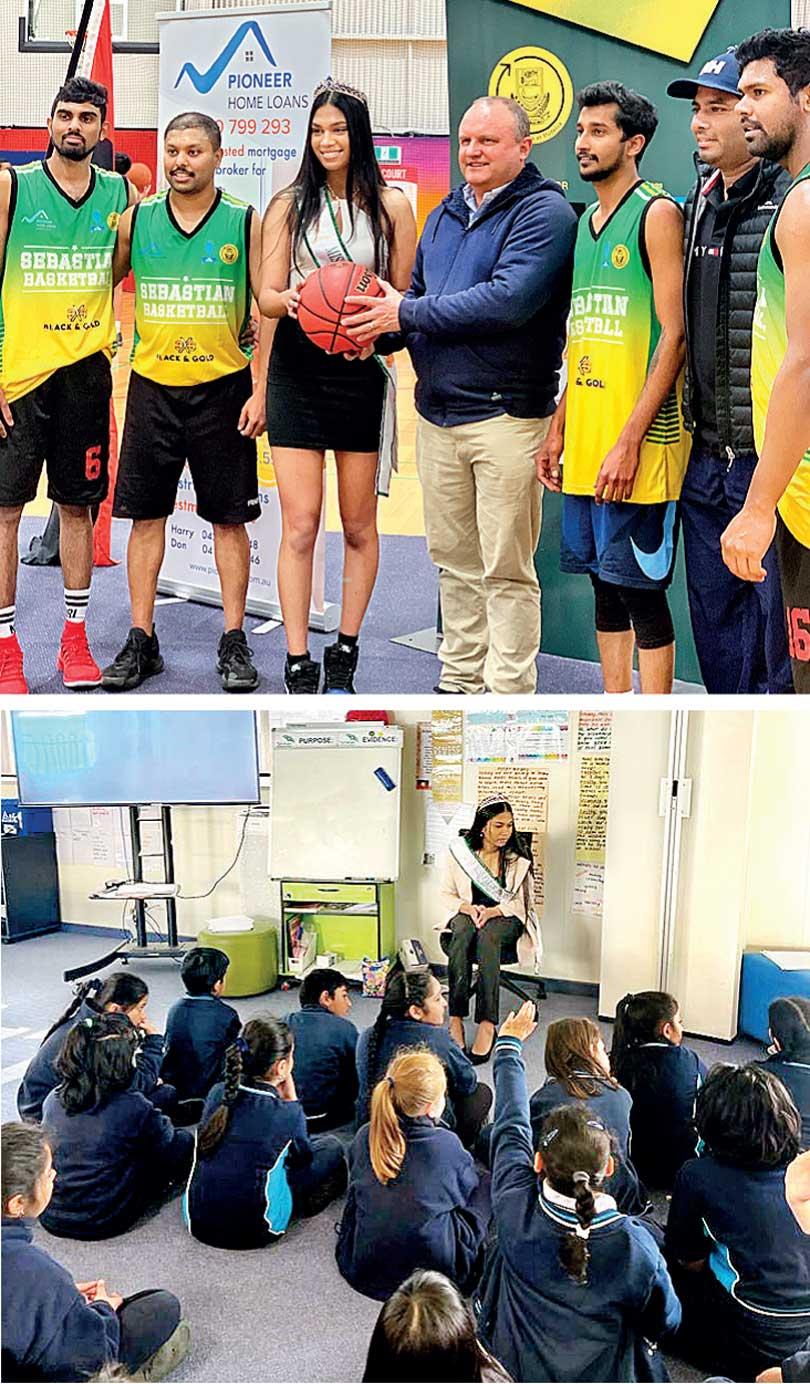 Q

You are also the 'People's Choice Award' winner?
The 'People's Choice Award' included a voting system allowing the public to be involved. The voting was opened to people around the world to cast a vote for the person they thought was most worthy of the crown. Drawing a crowd from Sri Lanka and Australia and other parts of the world, I won the award with a percentage of 40.6% of votes. In terms of comparison, the runners-up had 19% of the votes cast. This was a fulfilling moment for me as it demonstrated how much support I truly had. I would like to thank everyone who voted and showed support constantly as none of it would have been possible without the collaboration of everyone. This award and the national title are to be shared with everyone as it is not a win for only me but every person that showed some love.
I had the opportunity to travel and compete for a title in Egypt, however, I had planned to visit Sri Lanka in December from the start of 2022. I had been looking forward to seeing my home country and family, after the inability to visit due to Covid 19 lockdowns but I had to kindly decline. Therefore, I would love the opportunity to venture into international pageants and compete in many more.
Following the completion of my nursing degree, I would love to visit Sri Lanka and use my knowledge and resources to set up medical camps to give back to my homeland. I would visit Sri Lanka's schools with a small programme to educate our younger generation about our environmental issues and assist in teaching eco-friendly practices"
Pics Courtesy
Himaya Wijayaweera