---
Human Hand – trailblazer of Human Civilization-Part XX1V
Unfavourable Yogas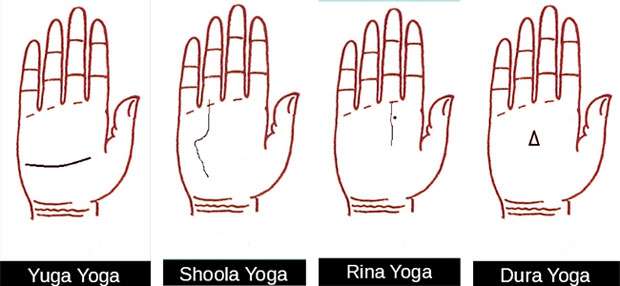 Unfavourable Yogas
Dura Yoga

Description: The presence of a mark of triangle on the Health line indicates this Yoga.
Result: A person having the Dura Yoga is frail-bodied, careless about his health and self-centered. He lives in poverty away from his birth place.

Yuga Yoga
Description: This yoga arises when a weak Health line connects with the Life line in some way.
Result: The person having this yoga is hot-tempered, arrogant and licentious. He would not get any respect in the society.

Shoola Yoga
Description: The line of Mars proceeding to the Mount of Sun over the Mount of Moon indicates the presence of Shoola Yoga
Result: The subject is wrathful, quarrelsome and arrogant. He lives in poverty. He becomes a poor worker due to his bad temper.

Rina Yoga
Description: A black mark on the right side of the line of Saturn signifies the Rina Yoga.
Result: A person having this yoga remains in debt throughout his life. His expenses always exceed his income.