---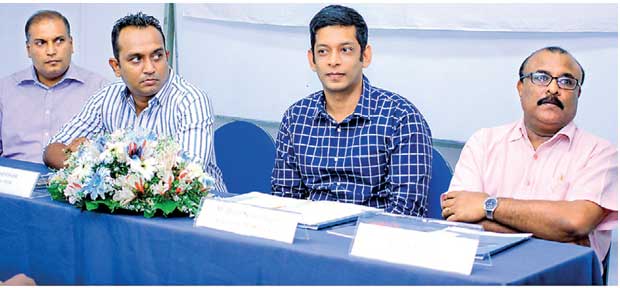 From left: AGM Education and Training Sanjeeva Jayaweera, SLIM Vice President Pradeep Edward, CIM Sri Lanka Chairman Brian Selvanayagam and SLIM Senior Lecturer G.S. Sylvester
Sri Lanka Institute of Marketing (SLIM), the national body for marketing, is the very first accredited study centre for the Chartered Institute of Marketing (CIM) courses in Sri Lanka. Many participants have added immense credibility to CIM studies at SLIM, by winning world prizes over the years.
The CIM inauguration for 2017 and intake of students was held on January 15, 2017 at the SLIM Business School, Colombo. The intake is now in progress. Those students who enrolled for CIM programmes would follow the course at the SLIM Business School.
A large gathering comprising of young employees, Advanced-level students, school leavers and parents participated in the event, which shed light on the overall view on CIM studies, global context in marketing and the opportunity for an individual to enter the international marketing arena via the CIM qualification.
The diverse lecture panel of SLIM that represents the cream of marketing practitioners in Sri Lanka would bestow CIM students with the marketing knowledge they have gained locally and internationally in their respective fields of work. Students would also be provided with the knowledge on the Sri Lankan context in marketing and sales, vital for practitioners.
Persons who have obtained the CIM qualification at SLIM and have become chartered marketers, subsequently have driven growth of their respective companies. They have become influential marketers in the global arena. These facts are sheer proof of the importance and credibility of CIM qualification and tutoring prowess of SLIM. CIM is also a great motivation for young and budding marketers in their quest to climb the corporate ladder.
SLIM Vice President Pradeep Edward, who is GAP Holding Director/CEO, gracing the occasion said, in addition to gearing themselves with thorough knowledge in marketing, at SLIM, the CIM students get the opportunity to participate in events held at national level such as SLIM-NASCO, Brand Excellence, Effie, People's Awards Marketers' Night and SLIM Toastmasters.
"SLIM being the national body for marketing has its core value of being responsible for the qualifications granted by the institute. Feedback derived from the corporate sector on those students of SLIM recruited for their esteemed organisations are a testament to the success story of SLIM," he said.
"Credible and value-adding training programmes of SLIM have made the marketing fraternity and the corporate sector in Sri Lanka perceive SLIM as an invaluable mentoring entity. SLIM is well known for its innovative training programmes, individual tutoring and multiple support sessions in marketing. The significant fact is, we conduct all these courses at affordable prices," he further commented. CIM Sri Lanka Chairman Brian Selvanayagam, who is On'ally Holdings Managing Director, as the special guest, invited participants to identify the real marketer in them. "Marketing is a 'Way of Life' and a philosophy and CIM will groom you to become a marketer who could rub shoulders with global players," he said. Senior lecturer, marketing consultant, trainer, tutor and SLIM Education Reforms Committee Chairman G.S. Sylvester outlined the CIM curricula and announced that a student at SLIM has made history by obtaining 100 marks for a CIM subject, which happens to be a world record.
"This is a fine endorsement of tutoring prowess of SLIM towards obtaining the CIM qualification," he added.
In the opinion of SLIM CEO and Executive Director Sanath Senanayake, the core objective of SLIM is to add value to the marketing fraternity and elevate the status of marketing in the country. He said SLIM never compromises with standards.
"Participants of CIM studies at SLIM could be rest assured that they are endowed with a thorough and comprehensive knowledge towards marketing. The cream of marketing personnel in the country have been selected by SLIM as resource persons to conduct CIM lectures, that are benchmarked with global standards," said Senanayake.