---
NDB, formerly known as National Development Bank, was a recognized development bank which financed long-term investments to many large-scale projects. After many years of spurring development in the country, NDB decided to capitalize on its strong brand equity and expand its services to be a fully-fledged commercial bank in Sri Lanka. As a result of bringing the NDB brand closer to individuals and society at large, a far-reaching brand evolvement was carried out.
With this idea in mind, the bank established a new identity with brand positioning across the bank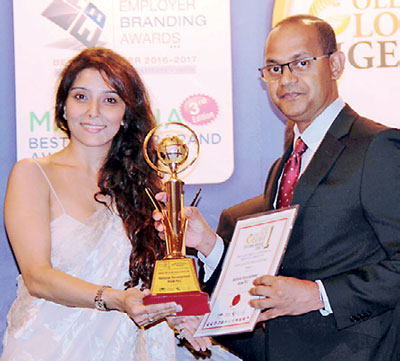 both internally and externally. New brand values were introduced to staff internally and the bank witnessed employees reliving these values in their day-to-day work. The bank ventured in replacing its brand identity of being a 'development bank' to a bank that touches lives of individuals, families, communities, society, economy and the nation through a full array of banking services. To further strengthen its position, NDB launched its brand campaign 'Our Commitment. Your Success' last year. Today, NDB has managed to reach its objective of successfully reaching out and financially empowering Sri Lankans at very personal levels, ranging from large-scale corporates to providing working capital to food vendors on the Galle Face Green. As a testament of this success, the bank recently won the award for Brand Excellence within the Banking and Financial Services sector and also won another award for Social Media Marketing at the recently held CMO Golden Globe Brand Excellence Awards in Kuala Lumpur, Malaysia.
Commenting on the receipt of the award, NDB Assistant Vice President Marketing Sanjaya Senarath said, "We are happy to be recognized for the work done with thae brand last year where we positioned ourselves as a bank developing individuals, people, society, etc. We also introduced our new tag line 'Our Commitment. Your Success'. We are also humbly proud of making great strides digitally within a short time of just four years and to be recognized for its innovative and effective use of social media. Such accomplishments with long-term orientation have given NDB a significant competitive edge in the local banking sphere while earning international recognition today."
NDB's product offerings also extend to capital and investment banking products, delivered by the bank's subsidiary entities. The amalgam of commercial banking, investment banking and capital market solutions has earned NDB the reputation of a unique financial group within the country.
With the vision to be "the driving force for a financially empowered Sri Lanka", the bank is committed to create superior shareholder value and to ensure success of all the stakeholders that join the bank in its success journey.