---


Frankfurt am Main is the financial hub of Germany and straddles the Main River in the south western state of Hesse. Frankfurt is second only to Paris when it comes to density of European skyscrapers, a fact which no doubt contributes to the city's nickname, Manhattan.

Frankfurt consistently ranks among the top 10 'most liveable' cities in the world. As an economic powerhouse the standard of living is high, but Frankfurters are also fun loving and the city contains plenty of attractions, dining options and nightlife venues to help people unwind after work.

Frankfurt is a curious mix of old and new: nearly half of the old town, including its medieval city centre, was levelled during World War II. Hasty post-war construction enlisted modern building designs, and consequently present-day Frankfurt's traditional timber fronted houses stand in the shadow of soaring skyscrapers.

More than 1.5 million visitors arrive in Frankfurt each year to attend its many international trade fairs. The city is also an ideal starting point for onward travel, within Germany and the wider European Union.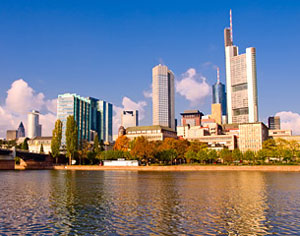 Attractions

Despite heavy World War II damage, pockets of medieval architecture remain – although many of these buildings had to be painstakingly reconstructed after the war.

Start your tour at the Aldstadt (old town). Here you'll find three half-timbered buildings collectively known as the Römer. These houses were originally built at the end of the 13th century and turned into the city's Town Hall one hundred years later. Nearby is the red-sandstone tower of the cathedral, Dom St. Bartholomäus. Construction began in 1239 but was not completed until 1877. Sixty-seven years later, after Allied bombing, construction began once more.

Head south and cross the Main River, using the Eiserner Steg footbridge to the Alt-Sachsenhausen neighbourhood. Here you'll find the Museumsufer, or Museum Embankment. Thirteen museums line the riverbank between Eiserner Steg and Friedensbrücke, covering such genres as art, architecture, film, sculpture, communications and culture. The street itself is worth a visit on Saturdays when it is partially closed to traffic for Frankfurt's largest flea market.

Frankfurt has a number of other museums located outside of the Museum Embankment, most notably the Museum of Modern Art (known as "the slice of cake" due to its architectural design), and Germany's largest natural history museum, the Senckenberg.

Shopping

Back on the north side of the Main is the district of Zeil, a pedestrian zone between the Hauptwache and Konstablerwache. Also known as the Golden Mile, it is one of the continent's most famous shopping streets and is considered the 'Fifth Avenue' of Germany. Schillerstrasse, another pedestrian zone, lies between Hauptwache and Eschenheimer Turm; it is home to many elegant boutiques and speciality shops.

Dining and Nightlife

Once only known for the Frankfurter – a hot dog to the rest of the world – the city has developed its culinary capability and is now a serious contender alongside Berlin and Munich for Germany's gastronomic capital.

Frankfurt is home to 180 different nationalities and features Turkish, Italian, Croatian, Greek, Moroccan, Indian, Lebanese, Chinese and Korean cuisines. Talk to resident Frankfurters (not the sausages) for up-to-date recommendations. If you're self-catering, visit Grosse Bockenheimerstrasse, known locally as Fressgasse or literally 'Munch Alley'. It is home to some of the city's longest established wine dealers, delis, and butcher shops.

Nightlife is mainly centred south of the river in Sachsenhausen. At the weekends the cobblestone streets become one big open air bar; the streets of Schweizer Strasse or Textorstrasse have everything from cocktail bars to wine taverns. For a leisurely tour of the city's taverns, take the Apple Wine Express, a tram which allows tourists to visit the local cider producers while enjoying Frankfurt's famously tart apple wine, Ebbelwei.

Beyond Frankfurt

A day trip from Frankfurt – and connected by Germany's 300 km/ph ICE train network – is the university town of Heidelberg. Located in the Neckar River valley, the town is home to the oldest university in Germany, an institution that was founded in 1386 and is often compared to Oxford or Cambridge. Wander through Heidelberg's charming narrow streets, crammed with picturesque houses and walk across the Karl-Theodore-Brücke to visit the world-famous Schloss, or castle.

Emirates offers twice-daily flights to Frankfurt from Dubai using a state-of-the-art fleet including the Boeing 777-300ER. Discover Emirates luxurious inflight offerings on Frankfurt flights, which include deeply reclining sleeperettes in First Class and Business Class and a new generation of comfort in Economy Class. All classes feature ice, Emirates onboard information, communication and entertainment system offering up to 1,400 entertainment channels, ensuring enjoyable flights to Düsseldorf.
---
Add comment

Comments will be edited (grammar, spelling and slang) and authorized at the discretion of Daily Mirror online. The website also has the right not to publish selected comments.

---