---

The likely loosening of the monetary policy will increase the savings - investment gap, which narrowed to 6.6 percent of GDP or Rs.503 billion in 2012, increasing the dependency on foreign financing to feed the investment hungry nation, a global bank alerted.

"While policymakers maintained a tight monetary environment in 2012, likely loosening in 2013 will keep the saving-investment gap elevated," Standard Chartered Bank in one of its recent reports said.

Asked how the relaxation of the monetary policy could expand the savings - investment gap in the economy, an exCentral Banker, Dr W.A. Wijewardena said that it could happen in two ways.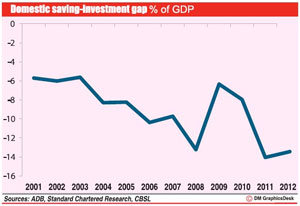 "On the one hand, when the interest rates come down (as a result of the loosening monetary policy), it kills the incentive for savings of both the private and the government sector, increasing their consumption. As a result, the overall savings go down leaving lesser funds for investment purposes," he explained.

According to the Central Bank Annual Report, the Sri Lankan government being a dissaver saw its dissavings worsening to 1.4 percent of GDP or Rs.106 billion, due to lower growth in government revenue in 2012.

"On the other hand, demand for investment-led borrowings also goes up as the borrowing cost is cheap. So, the overall investments go up. Therefore, this dual impact (narrowing domestic savings and increasing investments) will expand the savings - investment gap in a relaxed monetary policy environment," Dr Wijewardena noted.

Elevated external risk

A negative savings-investment gap (equivalent to the external current account deficit), will always have to be financed either in the form of foreign borrowings or direct investments. Higher financing from abroad in the form of excessive borrowings and other unsustainable means such as portfolio equity and bond investments will lead to external vulnerabilities.

According to Standard Chartered's Credit Alert, this imbalance is more pronounced in Sri Lanka and thus, the country is more susceptible to internal and external macroeconomic imbalances.

Sri Lanka's investments (30.0 percent) exceed domestic savings (17.0 percent) as a percentage of GDP. This, along with large fiscal deficits, has led to trade deficits (and hence, current account deficits), requiring foreign capital to fund the gap.

During the last two decades, average domestic savings failed to make improvements and remained virtually flat at 16.0 percent of GDP, increasing to 17.0 percent of GDP in 2012.

It was not long ago that Central Bank Governor Ajith Nivard Cabraal reiterated the significance of increasing domestic savings to finance the country's investment needs. The total spending on investments (private and public sector) stood at Rs.2,323 billion in 2012, which was 30.60 percent of GDP, improving from 30 percent the year before. Although the domestic savings-investment gap was 13.7 percent of GDP in 2012, the national savings - investment gap was narrowed to 6.6 percent (down from 7.9 percent in 2011) of GDP, due to the increasingly important role of net private current transfers and improving net factor income from abroad. The Central Bank projects gross investments of 33 percent of GDP from the current level of 30 percent for the ambitious US $ 100 billion economy by 2016, of which, only 6 percent will be accounted for by the government.