---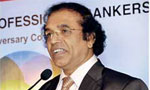 The Central Bank of Sri Lanka (CBSL) will be completely removing its capital account foreign exchange controls for locals within the next 2-3 years to realize the government's goal for t he country as a global business hub."Global business means there can be no foreign exchange controls. People will deal with any currency. Next 2-3 years our country will also be a global business centre. There will not be exchange controls and we will be operating in the global economy," CBSL Deputy Governor P. Samarasiri said at the launch of the Lanka Money Transfer service.
He said that current account transfers for any amount have been fully liberalized, while in capital account transfers, foreigners are free to invest and take out their money with no restriction, and almost liberalized capital account transfers for locals investing abroad."If we don't remove capacity controls on residents, of course, they will undertake the same investment approach through other channels because of the IT we have these days," he said of informal, black market transactions.According to Samarasiri, CBSL will be removing certain documentation requirements in the immediate future as well."In the next few months, we will take out some more reportings," he noted.Samarasiri also called for further stimulating of capital account activities."I don't know why people are fearful of capital transactions, because capital transfer is the most important economic activity in the country," he stated.Meanwhile he said that professionals such as lawyers, consultants, and even bankers still contact CBSL's Exchange Control Department for permission on the liberalized current account transactions, and we asked them to use their own discretion and not waste the CBSL's time.He said the only problem that could be of concern is the source of funds."The source of money, how it comes in and goes out; KYC (know your customer) is a different subject," he expressed.Foreign exchange controls were established during World War II to protect economies, and most Western countries removed such restrictions following its conclusion.

"Countries all over the world continued with exchange controls lovingly for whatever reason. That kept our countries out of global business. That is one of the reasons for our countries to stay low income," Samarasiri said.The country followed provisions of the 1949 Monetary Law Act and the 1953 Exchange Control Act until 1977, when significant relaxation occurred.After accepting the IMF articles of agreement in 1994, current account transfers were almost fully liberalized.Certain relaxations in capital account transfers were made in 2010, but the greatest progress was made in June 2013 when remaining current account capacities for migrants and travellers were greatly increased, along with the lifting of most capital account restrictions for nonresidents and foreigners.