---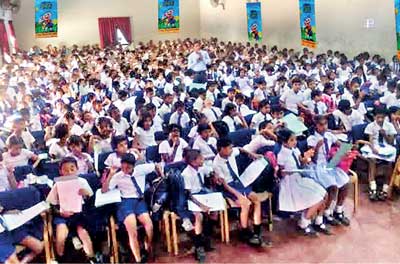 National Savings Bank (NSB) has been making a continuous effort to encourage the saving habit of the people of this country now for more than 44 years, teaching the nation to save. The bank, while marching forward with this ultimate mission always commits to extend a helping hand for the children to be successful at examinations and secure a good education in addition to 'Punchi Hapan' and 'Hapan' savings accounts of the bank introduced for children. As an initiative that realizes this effort NSB organises a series of islandwide and branch level workshops every year targeting the students who sit for the Grade 5 scholarship examination.

Accordingly, with the view of assisting another group of children to get prepared for the Grade 5 scholarship examination, all measures are in place to organise yet another successful islandwide Hapan scholarship seminar series this year too. As in the previous years, these workshops will give them the opportunity to take part in a discussion of the model papers provided by the bank and the past papers, conducted by an experienced teacher.

After preparing them for the examination the bank makes it a habit to appreciate their achievements because it believes that such an act would encourage another generation of children to reap the harvest of education. Accordingly, the 'Hapan Scholarship Awards' is organised annually as a national event to felicitate the children who have scored best at the examination. Children who have scored the highest marks at the Grade 5 scholarship examination and who maintain Hapan savings account or Hapan postal savings accounts with NSB with a balance of Rs.2500 as at October 1, 2016, will be awarded Hapan scholarships at the occasion. With a view to offer the opportunity of receiving a scholarship to a larger group of children the bank has taken measures to felicitate students who have scored highest marks in each district in both Sinhala and Tamil mediums.
Students who have claimed first, second and third places scoring the highest marks will be awarded with cash gifts to the value of Rs.50,000, Rs.30,000 and Rs.20,000, respectively while the rest of the children who are among the best 15 students in each district both in Sinhala and Tamil mediums will be offered cash prizes and all the Hapan awardees will receive a certificate, medal and school bag.