---
Hayleys PLC, the Grand Slam Winner of the 'Best Corporate Citizen Sustainability Award 2016' says that the sustainable way is the only way to operate a successful business.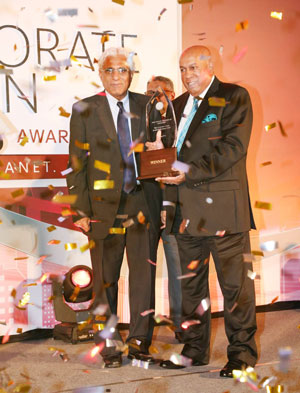 This was said by Hayleys PLC, when Corporate Communications and Sustainability General Manager Imara De Chickera spoke at the briefing session, conducted by the Ceylon Chamber of Commerce to launch its 'Best Corporate Citizen Sustainability Award 2017'.

Hayleys PLC, which won a total of six awards at the 'Best Corporate Citizen Sustainability Award 2016' along with the Grand Slam Award, has been a consistent participator of the competition, until it won the most coveted title last year.

"Winning the number-one corporate citizen of Sri Lanka, for the fifth time, we were conferred the Grand Slam Award, which definitely gave us the greatest source of joy" De Chickera reminisced.
"Creating a strong business and building a better world are not conflicting goals – they are both essential ingredients for long-term success," Chickera pointed out while talking about the company's roller-coaster journey in the competition.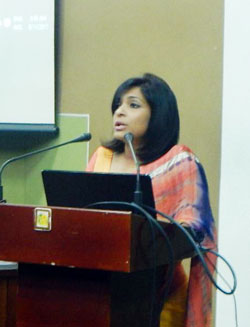 Hayleys believes the Best Corporate Citizen Sustainability Award, which is held for the 14th consecutive year has helped transform the sustainability agendas of the Sri Lankan corporate firms.
"It has indeed transformed the sustainability and CSR agendas of the business landscape across Sri Lanka and certainly continues to be the most coveted and respected award in the country," Chickera proclaimed.

Hayleys PLC, which has a 32,000 employee base operates a multiple of business ventures, which are sustainable by nature, revealed De Chickera, who heads the conglomerates Communication and Sustainability division.

It operates several sustainably aligned projects such as renewable energy plants, which generates 50MW of energy and purifies four-million litres of raw water, 8.2 million litres of waste water and 14.4 million litres of sewage every single day.

The company also produces activated carbon out of coconut shell waste, which De Chickera says "Is a magical, sustainable product with myriad purposes - such as air and water purification and is also an effective poison antidote and detoxifier."

She also advised the potential competitors of the BCCS 2017 to ensure that they account and report every small step taken towards creating a sustainable business environment, and points out that all matters in the final count.

"Telling your story is vital. And lastly finding the hidden gems that others may think are not significant enough, could be the biggest advantage that you have," De Chickera said at the conclusion