---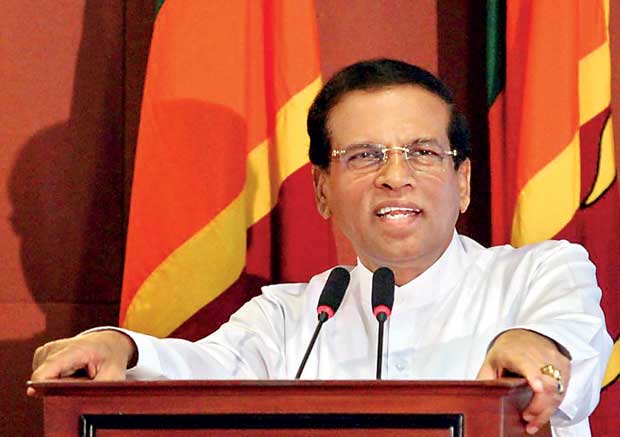 January 8, 2018 will mark three years since Maithripala Sirisena was elected as the Sri Lankan President, after defecting from the cabinet of his predecessor, Mahinda Rajapaksa.

He is the first president to hail from the North Central Province. He is an agriculturist by vocation. He joined mainstream politics in 1989 as an MP and has held several ministries since 1994. He was General-Secretary of the Sri Lanka Freedom Party (SLFP) and Health Minister until November 2014 when he announced his candidacy for the 2015 presidential election.

After being sworn in, Sirisena stated that he would only serve one term. On April 28, 2015, Sirisena voluntarily transferred significant presidential powers to parliament unlike any other president before. Sirisena's simplicity has certainly won the support of many people and put all the politicians in the country under pressure to follow his example.

Unlike most of his ministers, he himself takes his phone calls and returns his calls. Leo Tolstoy, once said, "There is no greatness where there is no simplicity." Sirisena is certainly a humble man with a very strong resolve, a very refreshing change for the country.

Three years into his term while democracy has got strengthened, there has hardly been any meaningful reform. His fourth year in office will start on January 8, 2018 with strong evidence of the president getting ready to play a bigger role in the government and will no longer allow political scoundrels past and present to cut deals with the government to abscond their place at Welikada.

His dreams of a new bipartisan era have given way to a new political order. To the vast majority in the country, his government often sounds very offhandish and removed from reality. Therefore, the president needs to act fast to push through the reform agenda he promised in January 2015. If he fails to provide leadership to push through the reform agenda, the opposition politicians like Mahinda Rajapaksa will invariably succeed in brainwashing the gullible.

Move into 2018
Therefore, as we move into 2018, his first challenge would be to see through the local election for the SLFP. Some politicians are making an attempt to portray the current election as one that would be consequential in shifting the fundamental thinking of the masses towards a sea change in public perception. This wishful thinking is bordering on being overly optimistic at best and delusional at worst.

This government, made up of the United National Party (UNP) and Sirisena's SLFP, too would not alter that political truism. When in power, the psyche of political parties is totally different from that when they are out of power. Given the current political situation, it won't be a surprise according to political analysts, if the UNP comes out as the winning party, despite a poor voter turnout.

Most Pradesheeya Sabhas and Municipal Councils are not yet decided on who should be second and third. There seems to be great uncertainty about that. However, conventional wisdom dictates that it would be quite hard to beat a well-established party like the SLFP whose leader is the president, who was elected by the votes of the UNP, part of the SLFP and an overwhelming majority of the Tamil and Muslim minorities.

The SLFP most likely should still be having its rural party structures intact. In which case, it will be an extraordinary task for any political entity, whether led by Rajapaksa or his three siblings, to relegate the SLFP to a subordinate position from a totally new party like the Sri Lanka Podujana Peramuna (SLPP) – very similar to the Democratic United National Front (DUNF) story in 1993. But certainly they know their game.

Political reconciliation
However, for the government of Sri Lanka, there is the challenge of resettlement and reconciliation. But neither of these can be seen in just the political context or in the limited framing of ethnic harmony. They are both related to a process of democratization, a political settlement and also good governance.

On the other hand, good governance is not an abstract principle but a practice. Also, it will not be too long before Sri Lanka learns if its 'yes' vote based on a 'traditional and principled position' on the 'status of Jerusalem' resolution would have repercussions.

The next session of US-Sri Lanka Trade and Investment Framework Agreement (TIFA) Council scheduled in Washington is but a few months away. The US could also take an even more aggressive stance against Sri Lanka at the UNHRC in Geneva. But for sure after the conclusion of the local government elections, a new window of opportunity will open for reconciliation, therefore, it is a priority, as it is wanted, needed and has the acceptance of the people.

Constitutional reforms
The proposed constitutional reforms will not be endorsed by an electorate that is deeply sceptical of its leaders. During the decades of war, the problem in Sri Lanka was construed as an ethnic problem. Indeed, the political problems of Lanka cannot be limited to one of ethnicity. The most serious challenge in Sri Lanka has been a problem of democratization.

Social exclusion also follows a lack of a balanced democracy. Democratization needs to distance itself from excesses of power and authoritarianism and the need is for liberal democracy in Sri Lanka. A process of political reconciliation centred on democratization would have to involve reforming the state through a new constitution that allows for the devolution of power to the regions with power-sharing at the centre.

It would have to advance the devolution debate in ways to address class, caste, gender and rural-urban divide. There needs to be substantive demilitarization involving not only demobilization and reduction of the size of the military. This is not easy to accomplish and strategies have to be planned for absorbing the demobbed forces into civil society through adult education programmes as well as skill training.

Thus, political reconciliation cannot just be about humanitarian issues and ethnic harmony. Nor can it be limited to a narrow vision of reconstruction and economic development. Rather it has to take seriously the challenges of democratization and a political settlement.

Such political reconciliation will not be possible without constructive debate and the free expression of opinion that challenges the Sri Lankan state and the ruling regime and the implementation of our national plans, that openness and engagement could make Sirisena even more popular in the electorate.

In this backdrop, the president must engage and understand the problems of the underprivileged and promote political reconciliation and help all communities to work together as one nation to ensure that as a country we can realize our full potential. On the other hand, the future of Sri Lanka's economic health will largely depend on political stability, technocratic efficiency, return to genuine peace, good governance and continued policy reforms – particularly in the area of fiscal discipline and management.
(Dinesh Weerakkody is a thought leader)