---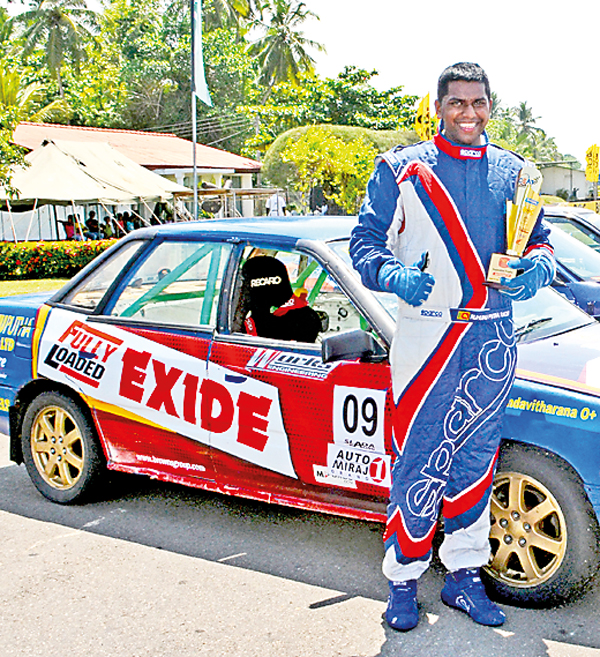 Team Exide emerged victorious at the recently held Rotherham Circuit Meet. Tyron Hendawitharana won 1st place at the Group SL-Hstanded Caress Subaru Legacy 2200 CC.

The Rotherham Circuit Meet is one of the most celebrated motor sports events, organised by the Sri Lanka Air Force Unit in collaboration with SLADA. Held at the Katukurunda Airstrip, renowned as a premier racing venue, the airstrip attracts large numbers of racing enthusiasts of all ages to witness the adrenaline pumping motor racing event.

The Commander of the Air Force Air Marshal Gagan Bulathsinghala, Chief of Staff of SLAF Air Vice Marshal CR Gurusinghe, Director Administration and Chairman of the SLAF motor racing Air Vice Marshal CP Welikala, Members of the Air Force Board of Management, Officers, airmen and airwomen with their families attended the event.
The event attracted a huge number of sports enthusiasts who had the pleasure of witnessing fantastic driving skills on the tarmac track.

A market leader in the automotive segment, Exide is supported by a network of over 500 outlets island-wide and is a strategic business unit in the Browns group of companies, operating in the market for over 8 decades.

"We are indeed proud that our racer Tyron Hendawitharana, emerged victorious yet again. Our riders are always enthusiastic and work tirelessly to achieve the best on the race track. This year's success further establishes Exide as a trusted brand name among the public and on the race track." Stated Ajith De Silva, Deputy General Manager of the Browns Battery Division.

Looking ahead, the division will explore and invest in diversifying its products and service offerings, through its existing dealer channels. As a strategic measure Browns Fully Loaded Exide will also offer combined value-added solutions of products and services.