---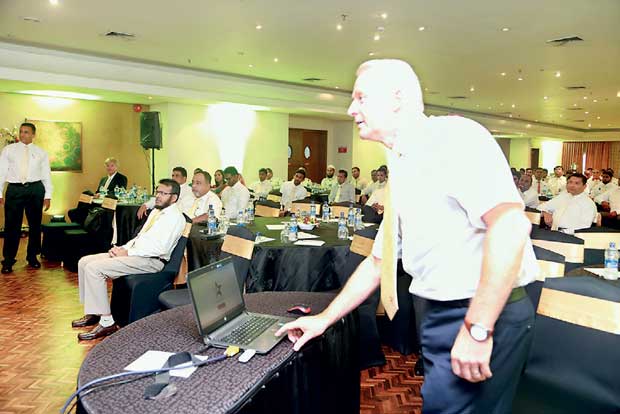 Serendib Flour Mills recently launched its new corporate website in keeping with its vision to strengthen its online presence.
The website (www.sfml.lk) was modernized and updated to provide vital information and details to the company's stakeholders with ease and convenience. The new website is fully optimized, features a fresh and sleek design as well as new content. Additional information was also incorporated in keeping with internal business changes and the company's renewed commitment to nutrition and sustainability.
The website was officially launched by Serendib Flour Mills CEO Kevin O'Leary at the Annual Sales Conference at Airport Gateway Hotel in the presence of the company's senior management, heads of departments and entire sales force. The new website was developed with the assistance of Pxyle and features the company's corporate video, information on the health benefits of wheat flour, essential product information and an overview of the company's quality control protocols, CSR and sustainability initiatives. Details of distributors, direct dealers across the island and all of their relevant contact information have also been provided.
The website also contains a vast collection of recipes that can be made from SFML's 7 Star range of wheat flour. Brief profiles of the company's senior management are also available and highlight the collective strengths and expertise of the entire team. The website also showcases the company's commitment to minimizing its carbon footprint and operating an environmentally friendly facility with minimal water and energy wastage.
Commenting on the launch of the new website O'Leary stated, "We are delighted to officially revamp and launch our website, which is an extremely important digital platform for us. Our website is the first point of reference for our business and industrial partners who want to learn more about our capabilities, background
and operations.
Additionally, our customers can also now use the website to learn more about our wheat flour products and their many benefits. We have made considerable efforts to ensure a crisp and elegant layout which features clear and in-depth information about all of the key aspects of our milling, distribution and sales and marketing operations." The website also provides links to the company's key social media platforms including Facebook, LinkedIn, YouTube and Instagram. It also serves as an important platform for showcasing the company's latest news stories, milestones and accomplishments. The potential employees are also welcome to search for vacancies and learn more about the company's workplace culture on the dedicated careers section.
Serendib Flour Mills is one of the leading flour mills in Sri Lanka and is a joint venture between Al Ghurair Foods (AGF) and Emirates Trading Agency (ETA). The company's iconic 7 Star brand of flour has been nourishing the nation for seven years and embodies the qualities of purity, innovation, quality, freshness, expertise, service and trust. Serendib Flour Mills is committed to becoming the number one producer of wheat flour in Sri Lanka and the preferred flour supplier in
international markets.