---
Top line slipped and the bottom line edged up narrowly at Sunshine Holdings PLC for the quarter ended December 31, 2019 as the group divorced its tea plantation business earlier in the year.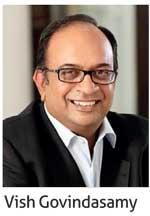 Sunshine Holdings, a diversified conglomerate with interests in healthcare, consumer goods, agriculture and energy, recorded a top line of Rs.5.3 billion for the three months to December 31, 2019 as its tea unit ceased to be a subsidiary in the quarter.

This is a decline of 8 percent of revenue from the comparative period in the previous year.

In 2017, Watawala Plantations PLC, a subsidiary of Sunshine Holdings, cleaved off its upcountry tea business into a new entity—Hatton Plantations Limited— which was later listed in the Colombo Stock Exchange.

Watawala Plantations now operates with the country's largest palm oil cultivation and a fledgling dairy business. However, Sunshine Holdings, which until last May, held the controlling stake of 75.65 percent in Watawala Plantations through its subsidiary, Estate Management Services Private Limited, disposed its entire stake in three occasions until it sold off the balance stake of 12.28 percent on December 26, 2019 starting from a 51 percent stake sale in May 28 in that year.
As Sunshine lost its control on Hatton Plantations PLC in May, the group ceased to recognize revenues from its tea business and as a result the group revenue slipped in 2019/20 compared to the previous year, but it bode well for the bottom line.

The group reported an operating profit of Rs.708.3 million for the quarter, down 8 percent from a year ago.

Despite the shedding of its tea business control at the start of the year, its robust healthcare business helped buttress the group bottom line.

Sunshine Holdings reported earnings of Rs.1.92 a share or Rs.287 million for the October-December quarter (3Q20) compared to earnings of Rs.1.91 a share or Rs.273.9 million in the corresponding period of the previous year.

For the nine months ended December 31, 2019, the group reported earnings of Rs.6.81 a share or total earnings of Rs.1.0 billion compared to earnings Rs.4.87 a share or Rs.697.4 million a year ago.

The top line declined 5 percent to Rs.15.8 billion.

"The notable growth in our bottom line is attributed to the strong contribution from the healthcare arm and group's execution of well articulated strategies amid tough market conditions that impacted all our business sectors," Sunshine Holdings Managing Director Vish Govindasamy said.

During the nine months, the group's healthcare business, which engages in medical devices and pharmaceuticals, recorded revenue of Rs.8.2 billion, up from 6.8 billion a year ago.
The operating profit of the segment was Rs.697.9 million, compared to Rs.331.3 million a year ago.

The group's consumer business slightly missed revenue to record Rs.4.2 billion compared to Rs.4.4 billion in the year earlier period while the operating profits fell to Rs.422.9 million from Rs.564.5 million a year ago.

Lamurep Investments Limited holds 45.41 percent stake in Sunshine Holdings, followed by an 18.08 percent stake by SBI Ven Holdings Private Limited and 17.43 percent stake by Deepcar Limited.