---
Awaits TRCSL's spectrum allocation to roll out 5G deployment for commercial applications
Plans to invest US$ 100mn on 5G deployment over the next few years
State-controlled Sri Lanka Telecom (SLT) group is preparing for pre-commercial launch of 5G services mid-year under SLT-Mobitel brand while awaiting spectrum allocation for the commercial launch next year.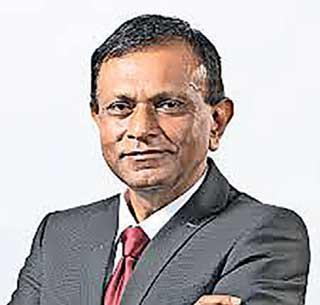 Lalith Seneviratne
"By middle of this year, we will have pre-commercial application of 5G perhaps with few industrial vertical applications as well," SLT Group Chief Executive Officer Lalith Seneviratne told Mirror Business.

The Telecommunications Regulatory Commission of Sri Lanka (TRCSL) has allocated spectrum for pre-commercial launch on 3.5 GHz band.

However, Seneviratne noted that TRCSL is yet to inform the industry on spectrum allocation for the 5G commercial launch.

"The exact time of our 5G roll out will depend on the time when the telecom sector regulator issues the license allocating spectrum. Once the license is issued, we will invest. We will need around one year to develop the commercial application," he elaborated.

SLT group plans to invest US$ 100 million on 5G deployment in the country over next few years. The group has earmarked about US$ 15 million investment to acquire
the spectrum.

Seneviratne stressed that the group is in a strong financial position to make these investments.

Sharing his views on the model of upcoming spectrum allocation, Seneviratne was hopeful that TRCSL would come up with a fair pricing model, moving away from the auction model, which could disadvantage smaller players in the industry.

"We hope TRCSL will come up with a different model based on fair pricing rather than auction model, because, if you are a smaller player, a bigger player can deny opportunities for you through the auction model," he noted.
In order to expedite the 5G launch and reduce legal costs, he revealed that SLT Group, Dialog Axiata and TRCSL have withdrawn certain 5G related litigations in courts.
"That was one of the initial action we undertook as board of directors. This has saved lot of money for the company," he said.

Although, the existing cases of 5G are unlikely to make much of a difference for most of the general consumers in the country, Seneviratne highlighted that 5G has the potential to transform businesses across various industries.

"5G is much more important to economic activities, it is the medium to get into precise manufacturing and services activities to produce better quality products and deliver much more satisfactory services. We want to facilitate SMEs as well as large corporates with much more efficient process automation rather than exhausting their funds on infrastructure alone," he elaborated.

Further, he noted that firms in particular in sectors such as manufacturing and logistics would vastly benefit from enhancements in automation and process controls.

"For example, automation can happen in the backend by connecting to the cloud through 5G. Hence, companies don't need to invest heavily in IT infrastructure; even the software will be given on subscription basis. In order to control a process instead of wiring, you can have a radio-based network. This will support businesses to reduce costs and seamless process operation," he added.

In addition, other commercial use cases of 5G include smart cities, smart buildings, and autonomous driving. (NF)