---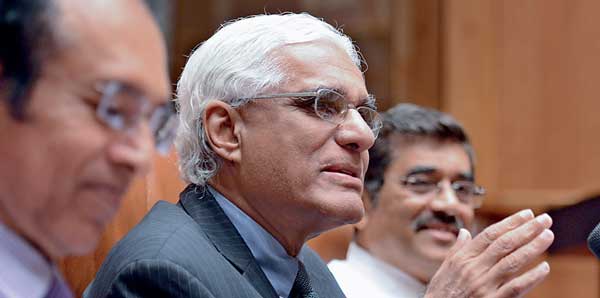 Central Bank Governor Indrajit Coomaraswamy (C) stresses a point during a press conference this week. To his left sits Deputy Governor P. Samarasiri and to his right Deputy Governor Nandalal Weerasinghe
The newly-appointed Central Bank Governor, Dr. Indrajit Coomaraswamy speaking during his maiden media conference this week said Sri Lanka has a lot of banks in comparison to the size of its economy and population. "Intuitively we have a lot of banks," he said while drawing examples from the Asia Pacific region's banking systems.
Dr. Coomaraswamy, who has extensive research knowledge on the success of Southeast Asian economies, said Singapore with its enormous financial system, operates with only four to five banks. He further said the Pacific Ocean nation Australia, with a similar population to that of Sri Lanka, has only four banks. The new Governor's claims hinted that he prefers some form of consolidation in the overcrowded banking sector in Sri Lanka sooner or later. However, he said he prefers a market-driven consolidation process as he thinks the forced consolidation, implemented under the Mahinda Rajapaksa government, is not the best way forward.
It was only this week Mirror Business exclusively reported the Central Bank was covertly bringing back the banking sector consolidation on to the table by way of demanding significantly enhanced capital levels from banks.
The Central Bank is shortly expected to issue directives to all licensed commercial banks raising the minimum Tier I (core) capital level from the existing Rs.10.0 billion to either Rs.15.0 billion or Rs.20.0 billion with transitional arrangements. Dr. Coomaraswamy however said the banking sector is by-and-large in a "pretty good" shape based on their asset quality matrices and level of capitalization. Despite the fairly stable banking sector, the new governor sees some vulnerability in the non-banking financial institutions, some of which are under stress and could threaten the sector stability unless the proactive remedial actions were taken.
"We are a little exposed in the non-bank finance institution side and that's something the Central Bank is aware of. My colleagues who are working in that area are very vigilant. They are helping some of the more vulnerable organisations to restructure themselves," he added.
Sri Lanka's credit growth slowing: CB
REUTERS: Sri Lanka's privatesector credit growth is slowing, after monetary tightening earlier this year, the Central Bank's new Governor said this week. Credit growth rose to near a fouryear high in April of 28.1 percent from a year earlier, accelerating from March's 27.7 percent, despite monetary tightening measures in December and February. Markets have been worried rising inflation and high credit growth will lead to further tightening. "We see credit growth coming down," Indrajit Coomaraswamy told his first meeting with the media in Colombo. He did not elaborate on the credit growth after April.
"We still haven't seen the full effects of what has already been done. Now the slight spike in inflation is partly due to one-off things like the VAT (value-added tax)." The bank is monitoring the situation closely, but sees no urgent need to do anything, Coomaraswamy said.
The International Monetary Fund on June 3 said further tightening could be needed depending on credit and inflation developments. May consumer prices rose to a 32-month high after the government increased VAT to help restrain a soaring budget deficit, while core annual inflation rose 6.4 percent from a 38-month high of 6.6 percent in May.