---
Nawaloka Agri (Pvt.) Ltd, a division of Nawaloka Holdings, firmly believes in empowering farmers through technology-driven solutions to enhance agricultural productivity.
Moreover, feedback from authorized dealers who recently visited the Indian factory of Sonalika tractors, focused on the need for mechanically superior tractors.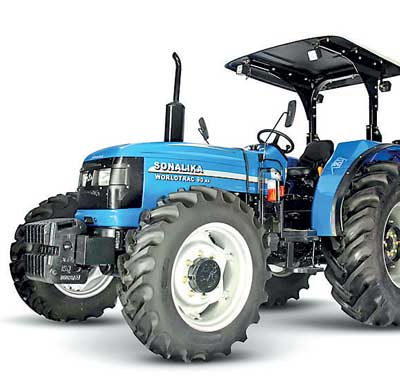 Additionally, farmers require tractors which enable them to tackle different kinds of terrain and work on all soil conditions and more powerful mechanical solutions with lower weight composite. They seek a quality offering at a low price.
Understanding these requirements, Nawaloka Agri has introduced the 4WD with a 50 horse power (hp), an all-new benchmark in the farming community.
The new Sonalika 4WD tractor was on view during the recently concluded Industrial Trade Exhibition and Consumer Fair 2016 in Wellawaya. Senior Nawaloka Agri management including the Sonalika Sales Manager and Area Sales Executive participated in the event.
The new Sonalika 4WD can also be inspected at the Nawaloka Agri showroom located in Wellawaya. Other areas the tractors are to be distributed shortly include the company's three main showrooms and service locations in Polonnaruwa, Paranthan and Wellawaya.
Catering to the farmer demand, the tractors will also be available in farming areas such as Kanthalai, Kurunegela, Galenbindunwewa and Polonnaruwa.
"We are extremely proud to introduce the latest Sonalika variant to the local farming community. This first 4WD 50hp tractor is more versatile for farming applications. We believe it is also the best-in-class in the 4WD category as a technologically-advanced tractor," said Nawaloka Holdings and Nawaloka Agri Chairman Jayantha Dharmadasa.
Sonalika tractors are also suitable for construction companies and for haulage purposes. These tractors have higher horse power models such as 76, 90 and even 120.
4WD tractor with 50HP provides high fuel economy, low maintenance cost and is backed by Nawaloka with three labour-free services.