---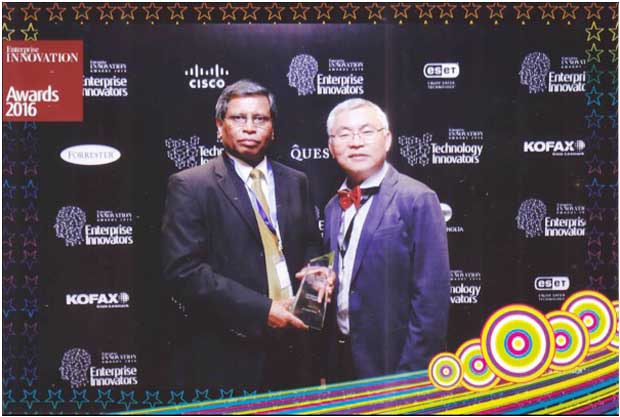 Metropolitan Communications was recognized as the winner under the Government and Public Services category at the Asia Enterprise Innovations awards held in Singapore recently.
The Enterprise Innovation Awards take place annually to recognize companies in Asia that are innovating through the use of technology and process best practices. The award category honours innovators who have successfully improved the culture of innovation and utilize technology to bring transformational benefits to the government and public services in the respective country.
The solution provided by Metropolitan Communications enabled Sri Lanka Police to have one Voice Communication Network connecting all the DIG officers and police stations islandwide using 1000 mobile extensions. The solution featured voice communication facilities including state-of-the-art PABX infrastructure with inter-branch calling facility by simply dialling four-digit extensions.
Commenting on the win, Metropolitan Communications Managing Director Roshan Tissera said, "This is a significant moment in the history of Metropolitan. We can be truly proud of our achievements to be the first company under the Metropolitan umbrella to receive an international award for innovation.
This was only possible with the help of our voice specialists who designed the solution and the engineering team who carried out the installation commissioning the system before the targeted date of completion."
Metropolitan Communications was among industry giants such as IBM, SAP, Amazon, Microsoft Cisco, Citrix, Avaya, Oracle VMware SingTel, who were the finalists in various other categories of the Enterprise Innovations Awards.
The company has been at the forefront of designing, integrating and implementing state-of-the-art data and communication technology for the most demanding applications. It specializes in planning, designing, building and maintaining communications systems for voice, data and video, backed by a strong after-sales culture and support team contactable through a 24-hour call-centre and offering remote support as well as 7 x 24 service.