---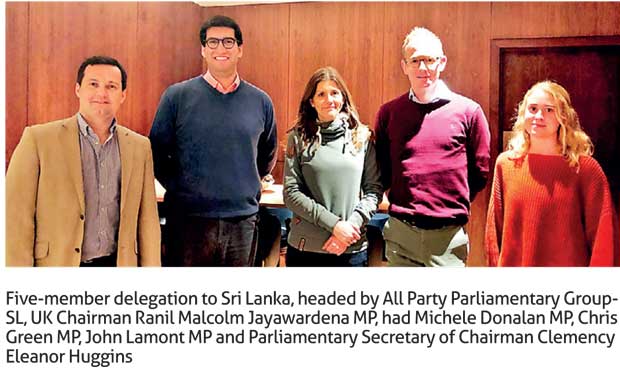 Sri Lankan High Commissioner to the United Kingdom Amari Wijewardene initiated a high-powered parliamentary delegation from the UK to Sri Lanka on the invitation of Prime Minister Ranil Wickremesinghe recently to further strengthen the bilateral relationships between Great Britain and Sri Lanka.

The five-member delegation to Sri Lanka, headed by All Party Parliamentary Group-SL, UK Chairman Ranil Malcolm Jayawardena MP, had Michele Donalan MP, Chris Green MP, John Lamont MP and Parliamentary Secretary of Chairman Clemency Eleanor Huggins. The delegation met the president, prime minister and speaker and called on the Foreign Ministry of Sri Lanka.

The main objective of this delegation was to develop stronger economic, trade, cultural and educational relationships with Sri Lanka.

Further, during the visit, the delegation met the chairmen of the Board of Investment, Export Development Board and Ceylon Chamber of Commerce. They were facilitated to visit London Stock Exchange Group Technology and Colombo Port City.
The delegation visited Galle to meet the governor and chief minister of the Southern Province. In Jaffna they met the Northern Province governor. During the visit to Jaffna they met the commander of the security forces in Jaffna. The delegation paid a visit to the Dalada Maligagawa in Kandy and Nallur Kandaswamy Kovil in Jaffna as well.

Wijewardene has initiated many successful measures to promote Sri Lanka in the UK and has been able to build strong relationships with key British parliamentarians, important economic institutions, key ministries in the UK and other key diplomatic missions for the benefit of Sri Lanka.

A few of the key initiatives made on the social aspect could be identified as promoting cultural ties and the creative harmonious relationships with all communities and successfully organising events to bind all Sri Lankan communities in the UK.

The Vesak, Deepavali, Ramazan and Christmas celebrations were attended with unprecedented participation and also her efforts have been commended by participants.

Her effort in promoting tourism with the tourist board in the UK has resulted in Sri Lanka being voted as the number one travel destination amongst the British. Sri Lanka was also awarded as the winner of 'The Family Traveller Award' for the best long travel destination.

David Pittaway QC treasurer of the Inner Temple was also invited to Sri Lanka on her initiative to help to expedite and improve the judicial system. Many events were felicitated to commemorate 150 Years of History of Ceylon Tea in the UK. The Independence Day celebrations of 2017 were carried out very successfully and plans are underway with the Sri Lankan Foreign Ministry and British and Commonwealth Office for yet another successful 70- year Independence Day celebrations and CHOGM 2018.

All activities have been made with the concurrence of the Foreign Ministry in Sri Lanka.