---
HNB Finance Limited will commence trading on the Colombo Stock Exchange (CSE) today after an initial public offering (IPO) and an introduction by the company.

The ordinary voting shares of the company have been listed via an offer for sale through which 10,000,000 shares were issued at Rs.5.70 per share, while 298,200,000 ordinary non-voting shares have been listed through an introduction at a reference price of Rs.4.20 per share.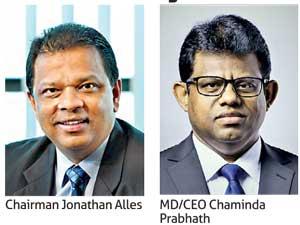 HNB Finance Limited, a subsidiary of Hatton National Bank PLC, was established in the year 2000 and is licensed by the Monetary Board of the Central Bank of Sri Lanka, under the Finance Business Act No. 42 of 2011 and sustains the National Long-Term Rating at 'A (lka)', as affirmed by Fitch Ratings.

The company pioneered commercial-based microfinance in Sri Lanka, charting a new course for the enterprising but inclusive small-scale entrepreneurs of Sri Lanka and is internationally acclaimed for its contribution to the microfinance industry.
Commenting on the development CSE CEO Rajeeva Bandaranaike stated that the CSE is pleased to welcome HNB Finance as the latest listing in the market and congratulated the company on a successful listing, which was well-received by investors.

He continued to add that the stock market offers a viable option for corporates around the country to access equity-based capital and an effective means through which companies could achieve the financial flexibility required, especially in the context of the post-COVID-19 environment. He went on to note that he welcomes Sri Lankan corporates to engage the CSE in this regard to address capital requirements in the future.

Commenting on the listing, HNB Finance Chairman Jonathan Alles said, "The successful listing of HNB Finance on the CSE is the culmination of several years of focused effort to bolster our internal capacity while driving innovation in our product portfolio and supported by resilient and trusting relationships with a large and growing customer base. While globally and nationally, we must now grapple with the emerging challenges of a post-COVID landscape, we remain confident in our ability to reach out to customers and provide them with essential financial services that will play a vital role in reinvigorating our economy from the grassroots upwards. The highly positive reaction that we have received from investors through HNBF's timely listing on the CSE is ample testament to these achievements in driving a transformational, technology-driven business model. As ever, we remain determined to further consolidate on this success and continue generating value for all stakeholders."

HNB Finance Limited Managing Director/CEO Chaminda Prabhath commented, "We are delighted to initiate trading on the CSE, especially after our initial public offering was oversubscribed on its opening day. As we welcome our new stakeholders, our confidence in HNBF's strong positioning has also grown and we anticipate significant and sustainable growth despite a uniquely challenging operating environment. As a pioneer in microfinance in Sri Lanka, we are currently investing heavily in solutions that will enhance our service standards and create value in the current global climate through digitisation, development of alternate channels and process re-engineering."

"The company is also keenly focused on addressing asset quality, strengthening risk and governance frameworks and - most importantly - building a robust and experienced team who can bring to life HNBF's progressive vision to be a leader in innovative, technology-driven financial solutions," he added.