---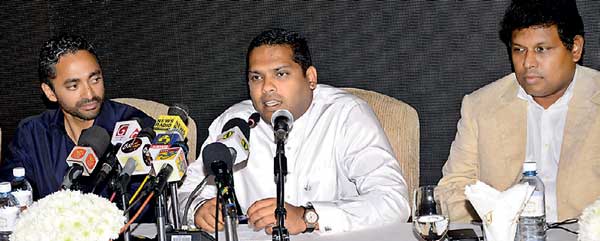 From Left: Social Capital Founder/CEO Chamath Palihapitiya, Telecommunications and Digital Infrastructure Minister Harin Fernando and ICTA CEO/Managing Director Muhunthan Canagey. Pic by Wruna Wanniarachchi
On its mission to provide universal internet access to the country, Rama Corporation's Google Loon project is likely to increase Sri Lanka's GDP by as much as 1.2 percent for every 10 percent of the populations who will start using the internet in the near future. Currently, 6.5 million Sri Lankan citizens do not have access to internet, while 8 million more are underserved with poor quality broadband.
"We're looking if we can provide data at 5-10 cents per kilobyte. We looked at the unserved household income, and 80 percent can afford that. If we can cover 40 percent of this, we get 2.1 million new users, which is a 10 percent increase in penetration," Social Capital Partner Jay Zaveri said. Social Capital Founder/CEO Chamath Palihapitiya said that studies across 56 countries have proven that a 10 percent increase in penetration results in a 1.2 percent hike in GDP.
"When you give internet to the people, GDP goes up, education goes up, gender equality goes up and crime goes down. It's as important as roads and highways in this country. because you will unlock people equally or more valuable than myself who will take this country forward," he said. However, this also increases the rate of cyber crime, which is an unseen war many countries are waging at any given time. Telecommunications and Digital Infrastructure Minister Harin Fernando said that digital services will also reduce traffic on the road, as people take care of business and administrative details from the comfort of their homes.
Under the project, underserved, as well as LTE customers also can enjoy extremely low cost data. Zaveri said that the first phase of the project will finish up testing within the next 12-18 months, and initially provide 4G speeds, with an aspiration to provide LTE transmissions in the future. He said that 90-95 percent of the traffic will move from the current cell towers to the balloons. He added that under the second phase, the project will see customers installing a microcell produced by the company in their homes, greatly reducing the need for wired broadband connections. "Nintety percent of traffic is run over this kind of (wired) infrastructure.
Without that (Loon), we won't be able to afford the infrastructure that is required to maintain these kinds of connections at this kind of speed," Palihapitiya added. He said that local data consumption will likely mirror the global scenario, where changing consumer behaviour is pushing the current 3.5 exabytes consumed through phones to 3500 exabytes in the next 5-10 years, therefore requiring initiatives such as the Loon project. Rama Corporation is a joint venture between Social Capital, the Sri Lankan government, and the local telecommunication companies.