---
George Steuart Teas known as the 'Original Ceylon Tea People' is now offered exclusively to NEGC membership through the loyalty programme managed by
CH17 Loyalty.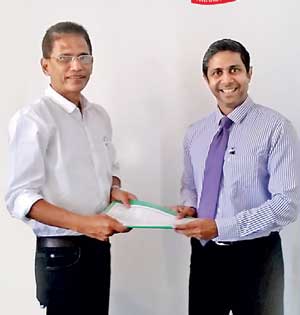 Following discussions CH17 CEO Jumar Preena had with the CEO of GS Consumer Paddy Weerasekera recently it was decided to open its doors at the Town House Tea Lounge, Liberty Arcade for the current membership of the club who hold a newly designed multi facility membership card.

Card holders are entitled to a handsome discount on all products offered at Town House which includes Ceylon black teas, fruity teas, herbal teas and green teas in wooden boxes, metal caddies and foil packs. And an array of gift tea marketed by GS Teas. "Today our brand is very popular among regular tea drinkers locally and we are also proud to say that we export our tea to over 50 countries. We have seen our tea been bought as corporate gifts, those who fly overseas on business tours , corporate meetings and as gifts for friends and family living abroad to offer them with the finest of Sri Lankan Tea", Paddy remarked.

At Town House, customers are not only able to taste a wide selection of teas but could also purchase a range of teas where some of them are not available at regular outlets. Customers can physically examine the many varieties of tea for its textures, aromas and even taste a sample of the tea they are interested in. There is also a Tea Tasting Experience where interested customers can come and experience the artistry of tea. The 20-minute session will include the history, understanding of the regions, grading, brewing a perfect cup of Tea and actually tasting different grades and types of tea. It will be delivered by well experienced tea sommeliers and can be booked prior.

These sessions at the moment are offered free for groups and has to be booked prior. Anyone who partakes in this experience is guaranteed to be tantalized.

He also stated that his company was pleased to associate with the Gold Club of Nuwara Eliya as the two brands are synonymous with age old tradition of being legendary names in their respective areas. "I must thank CH17 Loyalty and its CEO Jumar Preena in particular for connecting the two iconic brands together which will auger well for both" Paddy reiterated.

NEGC recently signed up with CH17 Loyalty to bring in several value additions to the club membership card including the services of MasterCard International.

"We continue to develop strategic business relationships between brands and communities through our loyalty concepts that are unique and out of the box approach," Jumar said.