---
Cotton Collection Founder/Managing Director Niloufer Esufally Anverally, was honored as Business Role Model of the Year 2017 at the recent Top 50 Professional and Career Women Awards 2017.
Organised by Women In Management (WIM), partnered by IFC, a member of the World Bank Group, these awards were held on 14 July at Hotel Taj Samudra. The award ceremony itself proved to be a celebration of 50 remarkable women from across Sri Lanka and the Maldives, showcasing achievements in their respective disciplines, while also empowering others at the beginning of their journey. A mother, wife, sister, daughter, dreamer, perfectionist and above all a passionate motivational force for local women, Anverally is the creator of the Sri Lanka's landmark fashion retail chain, Cotton Collection.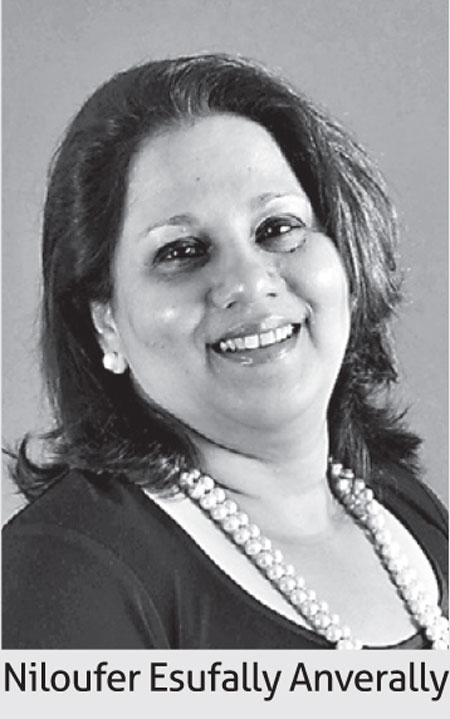 An Economics Major fresh out of the University of Mumbai in 1990, Anverally ventured into entrepreneurship, which was the last career choice anyone expected of her. However, it was a journey that she was destined to take. Today, 26 years later, she is the proud custodian of Cotton Collection and Leather Collection, overseeing five branches and over 150 staff. The retail chain is also fortunate to be going from strength to strength, a result of a steady growth path carefully guided by Anverally.

"70 percent of my staff and 50 percent of my senior management are female, which I feel is a strong indicator that Cotton Collection and Leather Collection are advocates of women's empowerment across the board," Anverally noted.

She made the 50 Most Powerful Women in Sri Lanka list by Echelon and was awarded the Outstanding Business Entrepreneur of the year Award in 2014. The same years saw her being recognized as a forerunner in Businesspeople of the Year Awards by the LMD magazine.
An ardent advocate of equal opportunity and workplace diversity, Anverally continues to empower women who are part of her staff and supply chain. "I am grateful to Women In Management and IFC for the 'Business Role Model of the Year' recognition, since it will help me promote entrepreneurship among Sri Lanka's women to an even greater degree. I am also proud to say that 90 percent of my suppliers are women entrepreneurs who started their journey with me, as I started mine 26 years ago. Today, they are strong, independent women who are inspirational leaders guiding a host of women through their own journey as entrepreneurs" said Anverally.