---
Reputed business leader Suresh Kumar Shah has been appointed Chairman of Ceylon Tobacco Company PLC (CTC) with effect from 16 February 2021.

His predecessor, William Francis Pegel, served as Chairman from August 2019 and stepped down from the position and announced his resignation from the Board as a Non-Executive Director with effect from 16 February 2021.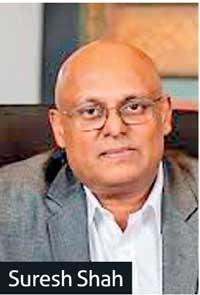 The appointment of Suresh Shah as Chairman follows changes to CTC's board announced on 01 February, with the appointment of three new Non-Executive Directors Suresh Kumar Shah, Stuart Kidd and Rumana Rahman; bringing the number of Directors on CTC's board to eight.

In light of these new appointments, CTC informed all relevant stakeholders that Suresh Kumar Shah, Stuart Kidd and Rumana Rahman do not hold any shares in the company.

Renowned for his visionary leadership and commitment to good governance, Suresh Shah has served as Chairman of the Ceylon Chamber of Commerce, Sri Lanka's apex trade chamber, and is a past Chairman of the Employers Federation of Ceylon.

He has also served as Commissioner on the Securities and Exchange Commission of Sri Lanka, and was a member of the Monetary Policy Consultative Committee with the Central Bank of Sri Lanka and of the Council at the University of Moratuwa.
A Fellow Member of the Institute of Chartered Accountants of Sri Lanka, Suresh Shah brings with him a wealth of business acumen, serving as Director on the Board of reputed blue chip, Carson Cumberbatch & Co. PLC, since 2002, and Director/CEO of Ceylon Beverage Holdings PLC since 1991 and Lion Brewery Ceylon PLC since its inception in 1996.

British American Tobacco's (BAT) current Regional Head of Finance, Asia Pacific and Middle East, Stuart Kidd, joined BAT Australia in 2001. He has held various senior finance roles in New Zealand, Vietnam, United Kingdom, Switzerland, Hong Kong and Japan. Prior to his appointment as Regional Head of Finance, he was Finance Director at BAT Japan from 2015.
Kidd counts over 19 years of experience across the Group. He is a Certified Chartered Accountant from the Australia and New Zealand Institute of Chartered Accountants.

Rumana Rahman is BAT's Regional Head of Talent, Culture and Inclusion for Asia Pacific and Middle East. She is the first South Asian female and first Bangladeshi to sit in the Regional Leadership Team and is also the first South Asian female leader of the top 120 Leaders of BAT.

Prior to moving to Hong Kong, Rahman was the Head of Human Resources for BAT Bangladesh. With over 18 years of experience, she has an extensive background in Human Resources and specialist functions. Rahman was recognized as the Most Inspiring Women Leader by Brand Forum in 2016.