---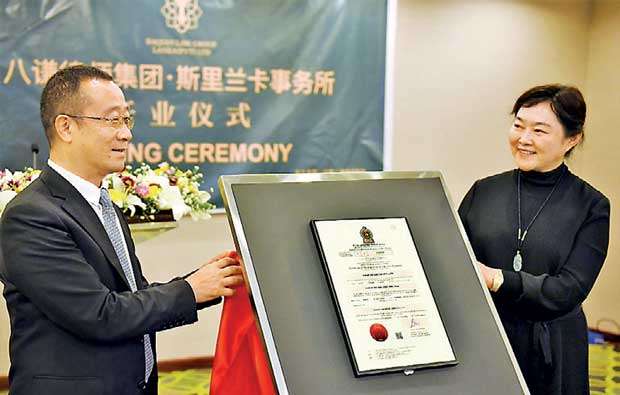 Unveiling the incorporation of Baqian Law Group Lanka (Pvt.) Ltd as a private limited liability company in Sri Lanka
Pic by Nisal Baduge
By Harshana Sellahewa
Addressing the language barrier and misunderstandings in connection to the time-consuming legal processes faced by Chinese investors in Sri Lanka, Yunnan Baqian Law Group of China opened Baqian Law Group Lanka (Pvt.) Ltd in Colombo to act as a catalyst to fast track the processing and communication between the investor and relevant local authorities.The firm was officially launched at an opening ceremony at the Hilton, Colombo on Monday.

With the extensive promotion of the 'One Belt One Road' initiative, Chinese companies are seeking to invest in overseas markets, which is inseparable from strong legal guarantees.
Baqian Law Group Lanka (Pvt.) Ltd was developed with the aim to provide professional, comprehensive, timely and efficient overseas legal services to domestic and foreign enterprises.

Relying on the geographical advantages of the law firm and exquisite overseas legal services, combined with the extensive local legal service experience, Baqian integrates high-quality resources from all walks of life in domestic and abroad to build a legal service bridge for mutual benefit.

The establishment of Baqian Law Group Lanka (Pvt.) Ltd is believed to enhance the brand competitiveness and influence of China's international legal services, practice legal diplomacy, and demonstrate the value of lawyers.

The services provided by Baqian Law Group Lanka (Pvt.) Ltd are: notarial services, legal due diligence, international trade remedies, undertaking for the establishment of various types of enterprises and institutions, advising on investment architecture and corporate governance architecture, assist clients in handling anti-monopoly review in domestic and overseas, intellectual property disputes, assist clients to complete the acquisition and delivery, dispute resolution related to investment, real estate and construction, advising on operations, taxation and financial compliance, transaction structure design document drafting, review and support of transaction negotiation, assist on government approvals, filing, registration, exemption and related procedures, legal services for the construction of direct investment projects, assist on project financing, legal opinions and advising in selecting and coordinating financial advisers and other service agents.

Yunnan Baqian Law Firm is one of the Sino-Global legal Alliance (SGLA) members rooted in Yunnan, serving China and its business covers South Asian and Southeast Asia. With nearly 200 lawyers and administrative staff, Baqian can provide customers with comprehensive domestic and international legal services and solutions. The law firm strives to provide quality and efficient legal services to each client with the joint efforts of the whole team.

After 20 years of inheritance and 10 years of brand honing, Baqian has grown into one of China's leading law firms. Today, in the field of commercial legal services, dispute resolution, government and State-owned enterprise legal services, and in the legal services of South Asia and Southeast Asia, Baqian has been at the leading position among Chinese law firms.

Baqian Law Group's sub-divisions cover Laos, Cambodia, Thailand, Sri Lanka and Myanmar.